Happy Tuesday!
For today's card I was inspired to do two things… play with the color ORANGE and try a new background stamp technique with my Tim Holtz stamp platform.  I probably should have stopped a few steps before I did, but now that I've walked away from the project and am coming back to it, it's growing on me.  Regardless, I had fun and did succeed with both those goals!  Hope you like the card, or can look past it and learn a fun technique 🙂
Let me first say that I saw this technique on a video shared by Unity Stamp Company… I looked for it so I could share the link, but haven't been able to track it down.  If I find it, I'll add the link here!  The stamp I chose may not be the best for this technique, but it was still fun!
I used a cling mounted background stamp (this is an OLD one by Hero Arts) and three shades of yellow/orange Distress Ink.  After lining up my paper with the stamp and securing it with magnets, I started with the lightest color and randomly inked spots over the background.  I repeated this with two more colors, gradually filling in the entire card surface.  I went back with the middle color to fill in any gaps that were still there and created a fun, multi-toned background in just a few steps!  Because Distress Inks layer and blend so well, there were no harsh lines where the colors met or overlapped.  I used full size ink pads, but you could probably get even better results with the mini Distress Inks!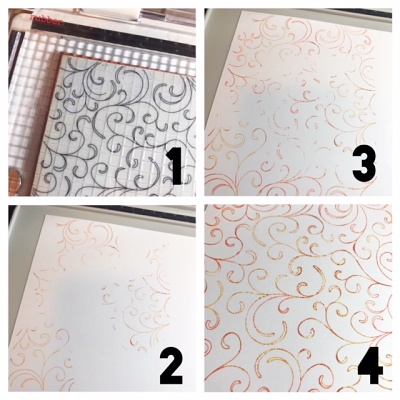 When I went to assemble my card, I found the background had too much white space for the rest of the ideas I had in my head, so I kept going… blending some Distress Ink over it, stamping another background stamp & eventually adding a large splatter of Distress Stain. It got pretty ugly before I (hopefully) redeemed it. LOL. but, I added a pretty die cut (another old fave by Memory Box), book print, a sentiment stamp (another oldie by Art Impressions) and some pretty orange ribbon… and came up with this: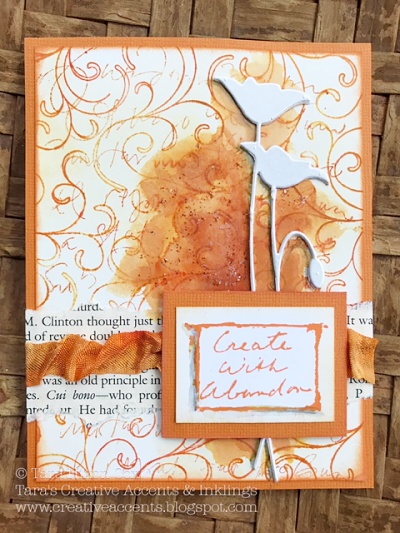 I finished it off with a light shadow with the black Stablio pencil and some glitter…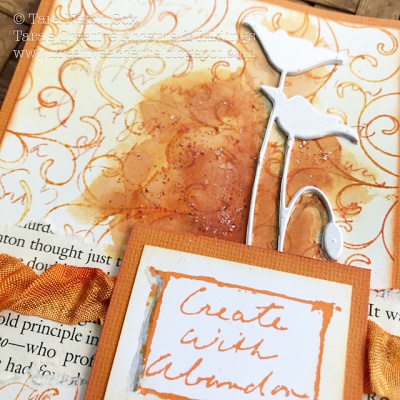 At the very least, I can say that I was indeed creating with abandon, as the sentiment says.  Maybe that's not always the best advice… but it came out okay in the end 😉
I also have to say, apart from the Stamp Platform, I used a bunch of older supplies that hadn't seen any love for a while to make this card. A new tool like the platform (and the new mini that is available for pre-order, which is awesome if the larger one is a bit over your budget!) can really give new life to the supplies you have already!
Hope you find time to be creative this week!  See you next Tuesday!
Inky hugs,
Tara
Materials Used:
Distress Inks
Distress Stain
Cling mounted background stamp
White cardstock
Memory Box Poppy Die
Art Impressions Sentiment