It's Christmas week!  I can hardly believe we're in the final days of our Christmas 2020 countdown.  Everything is so different this year, and I keep reminding myself it's okay to have a slower pace (especially since there are no big gatherings to prepare for!) and just enjoy the season.  I was so late getting started on making Christmas cards this year that I almost feel I should keep going so I have them ready for next year, ha!   I have also been late in purchasing new wintery stamps & dies to create with, but these lovely holiday greens dies by Tim Holtz arrived just in time (and you can bet I'll be using some of them for creations throughout the year!).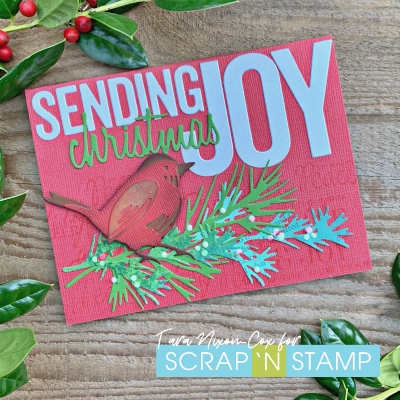 Today's card combines a few cuts of holiday greens with one of the feathered friend's dies, all decked out in red.  I've used some of the cut out letters from Sending Christmas Joy, by MFT along with a scripty 'Christmas' die cut.  (I've used an older Tim Holtz one, but any scripty word would work!). I love taking sentiment dies (and stamps) and mixing up the fonts together to change the feel of them.  It's also a great way to change the way they fit on your cards, as this design would not have fit on an A2 card if I had used the bold 'Christmas' letters that were part of the original die!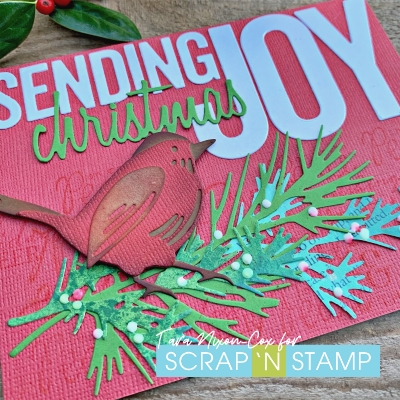 I finished off my card by adding a bit of detail to the background to break up the solid red… by adding more red.  LOL. I grabbed a variety of small Christmas sentiment stamps from my stash (there's some OLD wooden ones here, most from 10+ years ago) and stamped them randomly in red across the lower part of the card.  I didn't want anything too bold to compete with my images, and this was a fun way to add a bit of texture to the card.  I also added some white Nuvo dots as berries to the branches, some of which picked up the red ink from my background and added bits of pink.  I often forget that this happens when they are applied on water reactive inks (like Distress) but in this case it's a happy accident that just adds variety!
Thanks for stopping by- I hope the coming days are filled with joy & peace!
Inky hugs,
Tara