Happy Christmas Eve! It's a wonderful, busy time of year, but I hope you find time to step back and find time to enjoy the beauty of it! Every year I like to give my family new Christmas ornaments, and this year I wanted to make them handmade. I noticed a lot of varieties of wood slice ornaments popping up online, so I'm adding mine to the mix. I hope you like them!
Before I share, I'm happy to announce the WINNER of a $50 gift certificate for commenting on our White Christmas Blog Hop posts 🙂
The winner is Anna Ledrew! Congrats! Visit this link to claim your prize 🙂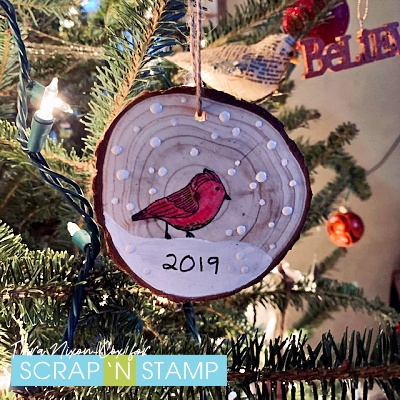 I made several styles of ornaments, but first I'll share the ones I used stamps on! This pair has some painting along with birds (by Flora & Fauna) stamped in Versafine Clair Ink. I left them to dry for a while and colored them simply with watercolor pencils. Having seen several tutorials that used pencils & gambol (which I don't have) I also blended with a tiny bit of water. Snowflakes are falling… I started with dots of paint, but finished it off with Nuvo drops for texture.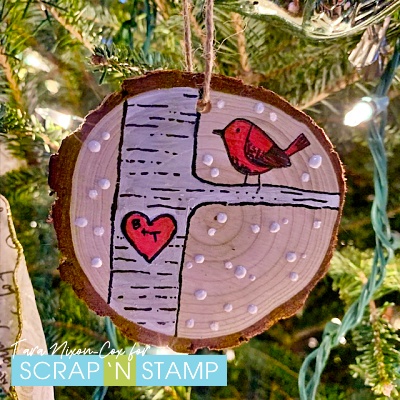 For this one I painted the tree with paint and outlined it with a black Sharpie marker. This pair is already hanging on our tree 🙂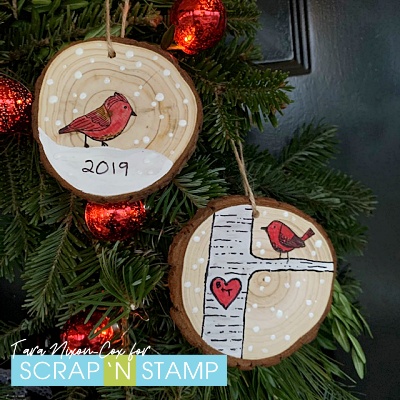 Here's another set I made using stamps from the same Flora & Fauna Stamp set. For these, I painted a white background on the wood slice. I was curious if it would stamp/color better on raw wood or paint. Both worked fairly well, though I like the pencils on raw wood better!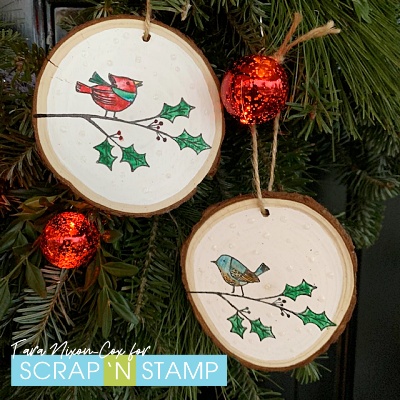 Next, I tried Distress Oxide on the white painted background. The text is Versafine Clair Ink again.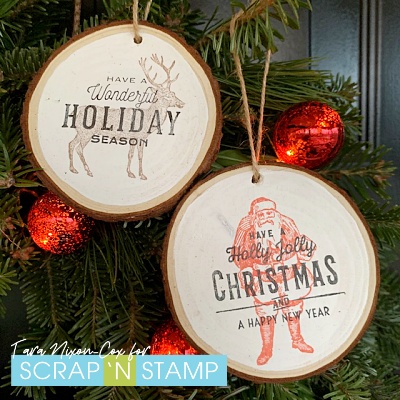 For this next set, I painted a black background and layered die cut snowflakes over it. I really like how bold and simple these ones are!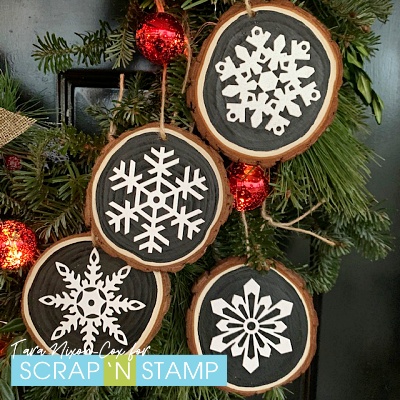 Lastly, here's a set of hand-painted ornaments, inspired by one I saw on Pinterest!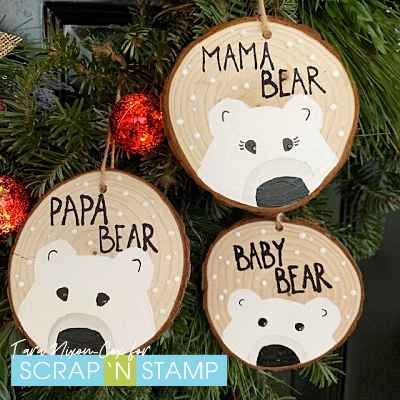 As you can see, I had fun making wood slice ornaments this year! There's so many possibilities… you just have to raid your stash a bit and see what inspires you!
Inky hugs & Merry Christmas wishes,
Tara