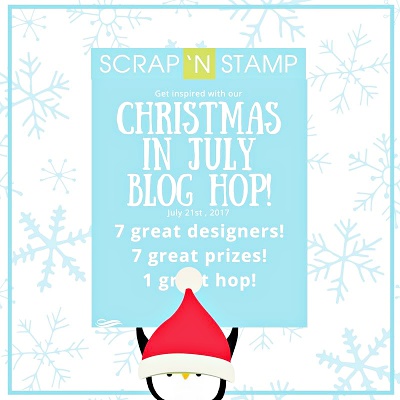 Welcome to our CHRISTMAS IN JULY BLOG HOP!  We are so glad you're joining us here today and can't wait to share the creative fun the team has been having… for the first time, our blog hop does not include a product challenge.  Instead, each member will be sharing a Christmas project using whatever products they choose from the SNS online store!
Flash Sale : Effective today, when you spend $100, you will receive $25 off your order!! Incredible savings! Use code CJ25 at checkout. Promotion ends July 25th!!
This should be a lot of fun, so let's get started!  If you get lost hopping along the way- please check back here for the full list of links in todays blog hop!
Here's the list:  starting HERE with me!
Be sure to leave comments along the way… each of us will be giving away a Christmas Embellishment Package!  7 winners total will be announced next Saturday!
And now for my card… I almost hate that it's first, because I'm pretty sure it's completely unlike the rest you will see on this hop!  I went very non-traditional, using mostly Tim Holtz products…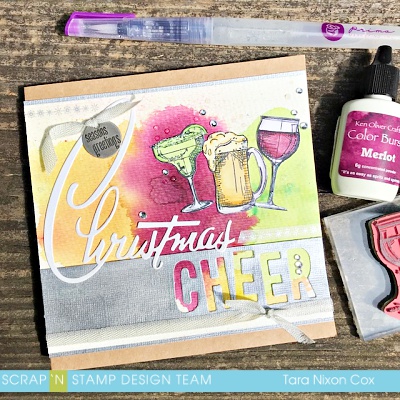 I also used products from one of my other fave artistic guys, Ken Oliver.  I decided to use Color Burst to color my beverages as well as creating a coordinating background.  I primarily used the Earth Tones set, and selected this combo of drinks because together they are sorta Christmassy colors PLUS they happen to be fave bevies of choice in our house 😉  Since I didn't have the Caribbean Brights Set (it's next on my wish list!) for the lime greens, I mixed together the dark green & Lemon yellow and it turned into a pretty great margarita green!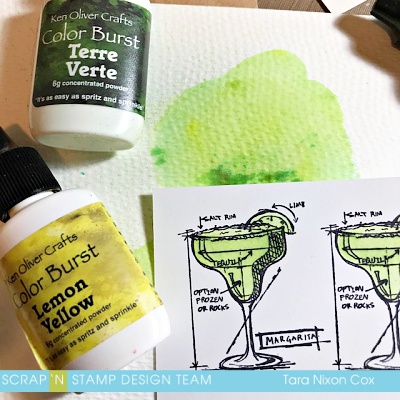 Each of my glasses had additional shading added with watercolor pencils and some Zig Wink of Luna pen added as well to finish them off.  The large Christmas word is by Tim Holtz and the CHEER was created using the 1″ alpha.  I am super excited to see more of these alphas coming up as new products this fall- I love creating my own sentiments with these!  I also love that you can use both the cut out and the negative space they leave.  I lined mine up a bit un-even to tie in with the theme here 😉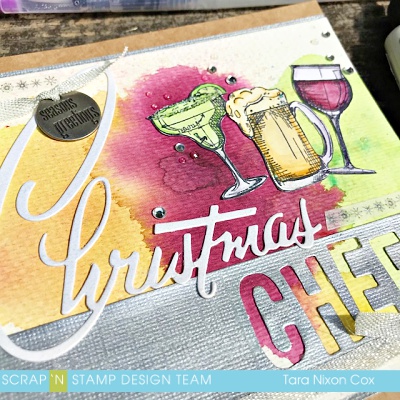 I finished it all off with some ribbon & a word charm as well as a tiny bit of snowflake washi tape… and of course some bling to make it all a bit more festive!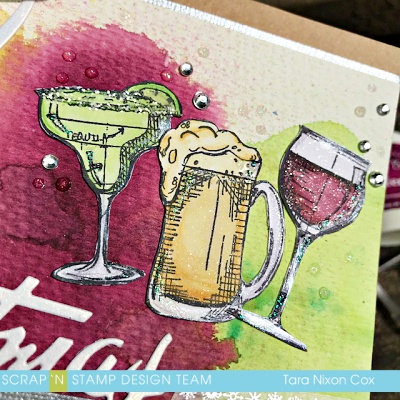 Hope you enjoyed a peek at my first non-traditional Christmas card of the year… I kinda have a thing for creating these.  I love using non-seasonal stuff to make my holiday cards!
Don't forget to leave comments along the different stops on today's hop!   Have FUN!  The link to your next stop will be added to the bottom of this post so you don't have to scroll back up unless you want to!
Inky hugs,
Tara
Materials Used:
Tim Holtz mini blueprints strip BEER
Tim Holtz mini blueprints strip WINE
Tim Holtz mini blueprints strip COCKTAILS
Tim Holtz mini blueprints DRINKS set
Tim Holtz 1″ alphanumeric die set 
Tim Holtz Retro Merry Christmas dies
Color Burst Earthtones & Brights
Next STOP on the Christmas in July HOP: Laurie Case