Today I'm sharing two simple mini-slim cards with some fun crackle texture!  For both cards, I used the Curly Frond stencil/mask by Dina Wakley Media, together with Distress Crackle Paste & Distress Embossing Glaze.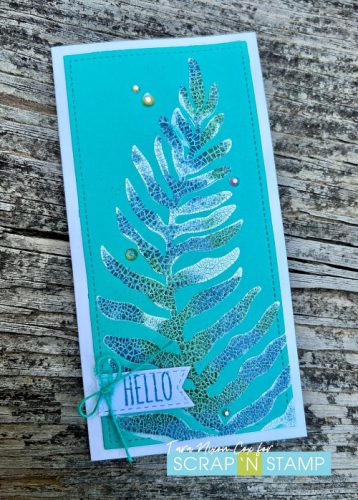 It took a bit of trial and error to figure out how to make it all work (crackle paste dries faster than you expect!) but it was worth the mess!  Even the ones that "didn't work" look pretty cool (I'll be sharing another one on my Instagram later this week!)
As you can probably tell, the paste I worked with was white.   I applied the paste as thick as I could, while keeping it even, then quickly rinsed the stencil when I lifted it (next time I'll have a tub of water ready for soaking).  I then sprinkled Distress Embossing Glaze over the design- the 'hello' card has Rustic Wilderness & Uncharted Mariner, the 'thanks' card has Salvaged Patina instead of the green, since it's on that bright lime background!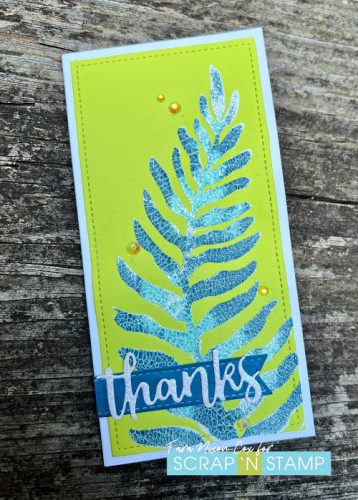 Both were stenciled onto a die cut panel, then once the paste was completely dry I melted the powder that stuck to the crackle using my heat tool.   I'll be sharing a closer look at both cards on Instagram today, so please check it out!
Plan to check back with us on Thursday this week for our August Inspiration hop… we have some stunning projects to share with you!
Inky hugs,
Tara