Happy Tuesday!  It's July 25 and we've got a treat for you… another fun blog hop, this time with some Christmas in July fun!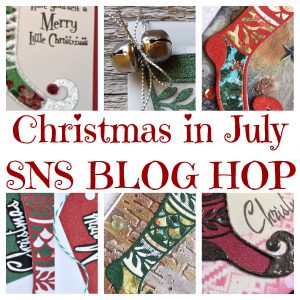 The ladies have some really fun projects in store for you, all of them featuring a funky stocking die by Dee's Distinctively!  The exciting news (apart from all the inspiration you'll be getting!) is that this die is a FREE GIFT with purchases over $50 right now!  Yay for freebies!  You're also going to see some gorgeous sparkle paper used in today's hop, and it's also available in the store, available in a multi pack or individual colors.
Unfortunately for me, I haven't gotten my die in the mail yet to create with… so I haven't got a new project to share with you today!  You can bet I'll be making something fun with it when it arrives though, and I'll share it with you even if it means a bit of 'Christmas in August' 😉  Just so I'm not completely out of the loop, here's a flashback post for you to some cards I made that feature another Dee's Distinctively die, a fun stacked tree.
Now let's get on with the BLOG HOP fun!  Here's the list of fabulously creative ladies that are hopping with us today:
Thanks for visiting and checking out our Christmas in July Blog Hop!  I hope it's as fun for you as it has been for us!  And I hope you enjoy the free gift with your $50 purchase in the online store… happy shopping & happy hopping!
Inky hugs,
Tara