Y'all, I'm born & raised Canadian living my married life in the Southern States… and I'm over here feeling sorry for the heat you are currently enduring in Western Canada right now!   (My home town is facing another day of triple digits Fahrenheit again.)  I hope you're staying cool and staying safe and hopefully enjoying a cold drink!  If it's morning, an iced coffee sounds perfect.  If you're reading this after noon (or sooner- no judgement here!) a fruity cocktail like the ones featured on my cards today would be amazing!  Cheers!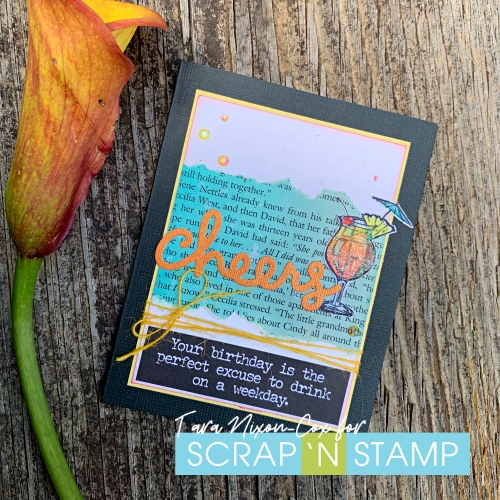 Today's card inspiration started with this cute die cut sentiment from Lawn Fawn, Scripty Cheers.  There's a ton of great products in the SNS store that you could pair with this, from shakers to stamps, but I chose to use an older Tim Holtz stamp set, Mini Blueprints 10 and this fruity cocktail.  I selected coordinating stickers from the larger version of the Snarky Small Talk Stickers for a fun twist.
I added some shine to my card by using pearl Cardstock for my die cut and adding Nuvo Glitter Drops to the drink (I had a minor crisis and ran out of Glossy Accents.  Guess I need to go shopping!) and a touch of bling with Studio Katia Crystals.  All of this works together with a couple of my favorite things… book print & thin twine.  Add a snarky sentiment and I really don't think you can go wrong!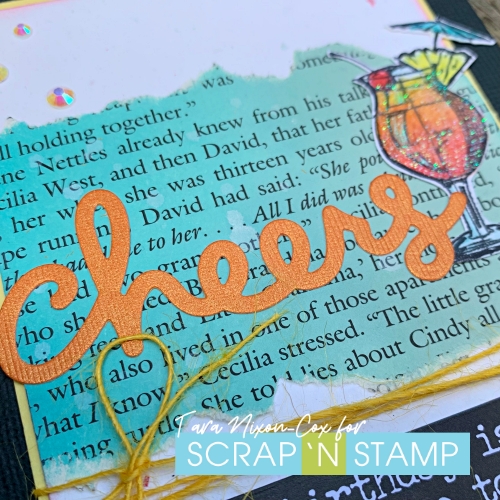 I often stamp & die cut at least two of something when I'm making a project, just in case I mess up my coloring or haven't made a decision on color choices.  Today I took the extras and made a second card with them- it's pretty simple, but I think it'd brighten someones day!  For this card I simply added the elements to a pre-printed card I had leftover from another project.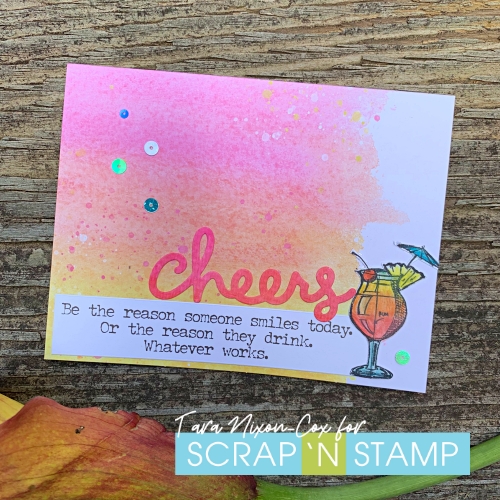 Here's a look at the two cards together.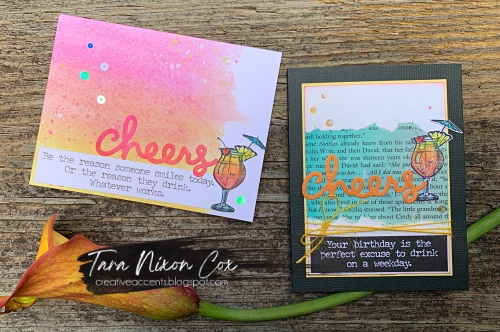 Suddenly I'm feeling a bit thirsty… Cheers!
Inky hugs,
Tara