Happy Tuesday!
When I got the Wishing You Happiness stamp set, I couldn't wait to play with these little cuties with their paintbrushes… I wanted to pair them with some fun painty backgrounds and the recent live by Tim Holtz featuring Distress Paint was great inspiration!  I still haven't watched the entire thing yet (I think it's 3 hours long), but there's some fantastic techniques to check out if you haven't yet!  If you're short on time like I almost always am, you can catch the technique I took my inspiration from starting at the 52 minute mark.  He calls it paint lifting and it's a favorite technique of mine using stencils with paint- I've done it a bunch with Dina's paints, but this was my first try with Distress!
I created a simple background on a piece of white card that was approximately 5.5 x 4.25″ using Distress Paint in Twisted Citron, Broken China ,Crackling Campfire & Chipped Sapphire.  I did some paint lifting through a couple different stencils (Dotty Lottie & Broken Fence) and I finished it off with a few splatters of Picket Fence Distress Spray Stain.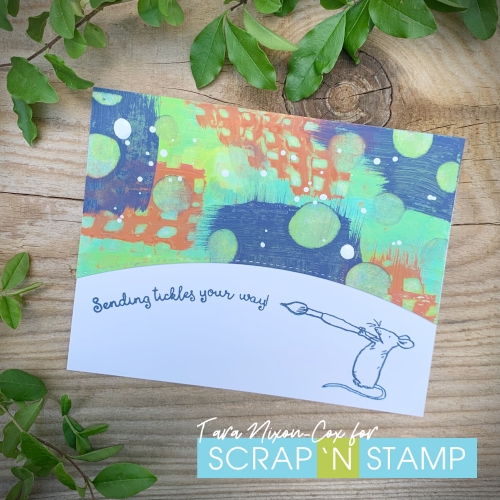 Taking inspiration from a different curved sentiment in this set, I decided to use a curved edge die to trim my background design and stamped the little mouse & sentiment along the curve.  For simplicity (and time!) I didn't even color my image, just stamped with Twilight Versafine Ink for a nice bold image.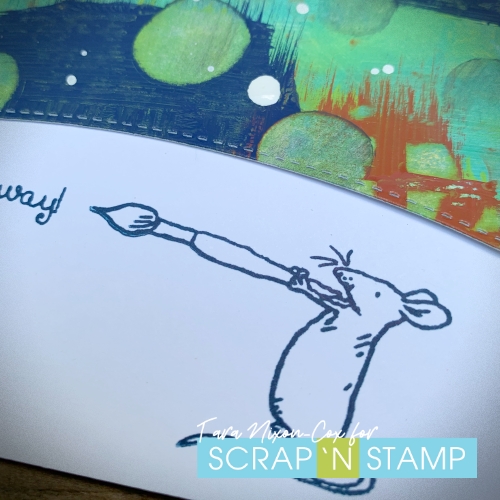 I chose to make the second card vertical with the smaller piece of my painted background along the fold.  Again, I left the card design very simple.  I love how you can really see my brush strokes in the chipped sapphire paint!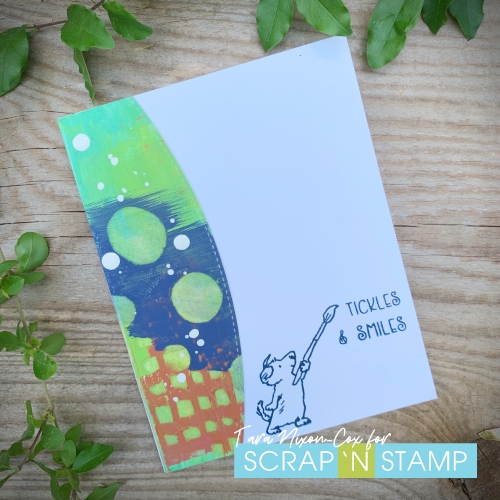 The splatters on this one were a bit bigger than I intended, but it makes the small piece a lot more interesting!  I love how these cards combine mixed media techniques with a clean & simple design.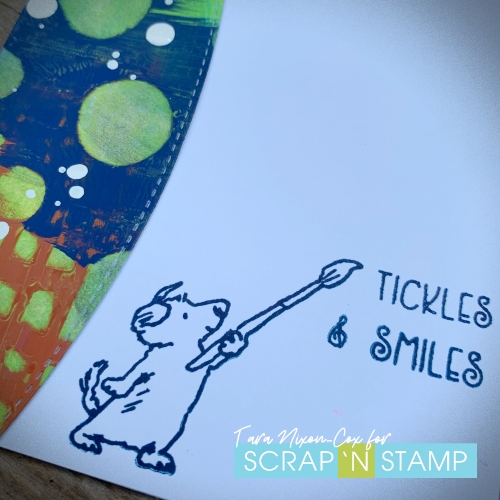 Here's a look at the pair of cards together… can you tell I was inspired by my sweet & silly grandson when I was making them?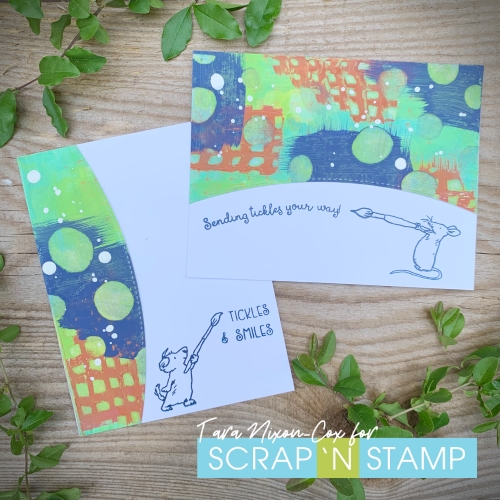 Inky hugs,
Tara