Happy Blog Hop Day!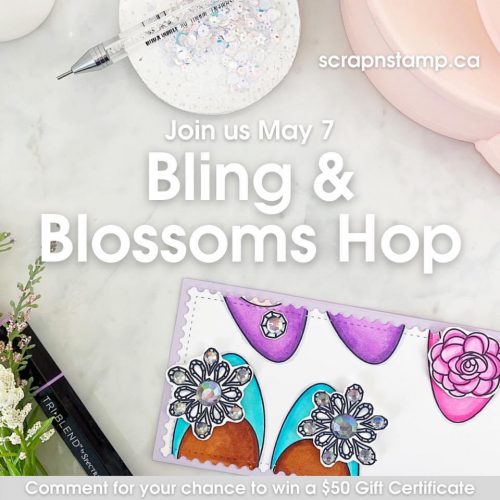 You are in for a treat this weekend, as our design team shares their makes featuring lots of bling and beautiful blossoms!  We will be giving away another $50 gift certificate to one special person who leaves comments along the way and since it's also Mother's Day weekend, each of you can go ahead and pamper yourself with 20% off your purchase in the SNS online store (use promo code Pamper).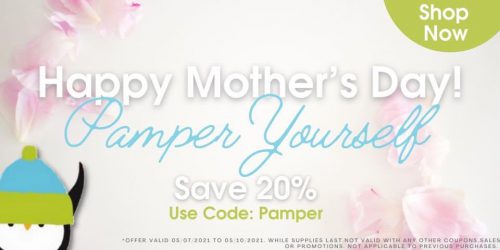 My card today was going to be a Mother's Day card… but when I went to my dies to find some alphas to use, I noticed the 'miss you' sentiment and decided it was perfect for my mom, who I really miss since she's so far away!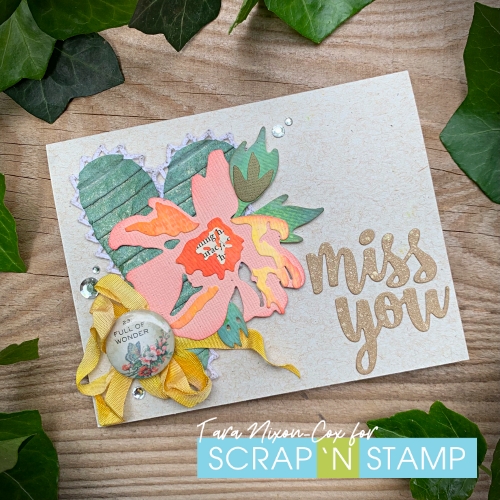 I'm featuring a card with the gorgeous Brushstroke Flowers #1 (numbers 2 & 3 are also gorgeous, I just don't have them yet!) and a fab 'miss you' die by MFT.  (It's out of stock right now, but there's several other fab ones, like this one by Penny Black!).
I cut a heart shape out of some corrugated paper that I had previously used as a backdrop for some paint I was spraying… it has layers of color, but ended up a really pretty green that I think looks lovely with the die cut flower!  I added a bit of crocheted lace around it for extra texture.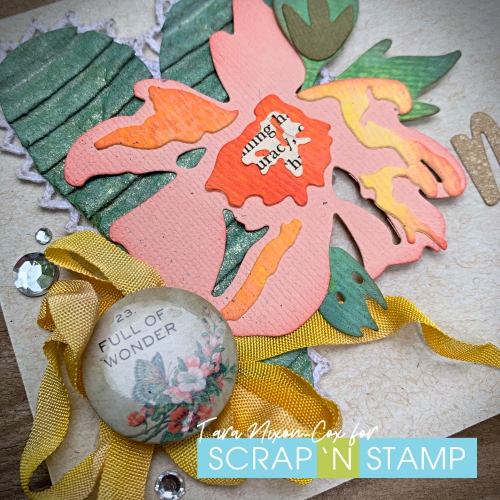 I chose to finish off my card with a non-traditional sort of bling, Quote Flair by Tim Holtz.  Since it doesn't actually sparkle, I also added a few gems and misted some Heirloom Gold Perfect Pearls on the die cut words and the corrugated heart. (I used the mist, but you can make your own by mixing some with water in a spray bottle or mini mister!)
I tied a sloppy bow with some thin crinkle ribbon that I had previously inked in shades of yellow and nested the quote flair in the middle of it.  It adds a bit of softness next to the gloss of the quote flair.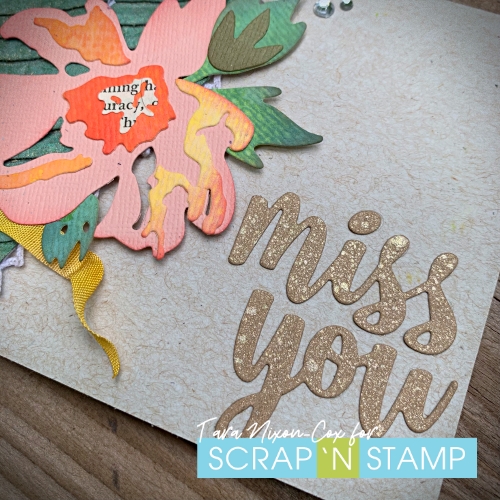 Once the individual pieces were assembled, this card went together fairly easily and without much fuss… just the way I like it!
I imagine, like me, you are looking forward to seeing the rest of the makes from the team.  Next up is Deborah, and it's sure to be sparkly and fabulous!
Here's the full hop order:
Happy Hopping!  Don't forget to leave comments along the way for your chance to win 🙂
Inky hugs,
Tara