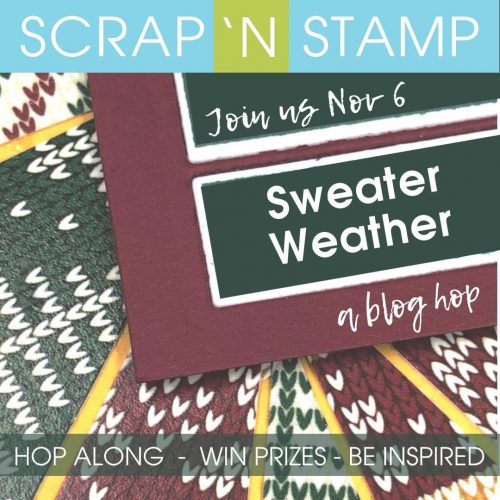 Happy Blog Hop Day!  Today's hop celebrates Sweater Weather… these cooler temps let us pull out our favorite sweaters and bundle up in cozy clothes!
As always, we've got a prize to be won- a $50 SNS gift certificate for one lucky person who leaves a comment on a blog or social media post!  We also have savings for everyone!  Bundle up for great savings. Various products 'bundled' together (ie. stamp & die together) for a great price.  Check them out this weekend in the online store!
Today you're gonna see cards from me twice along the hop (hope you don't mind)!  I had an idea for two variations on this new Winter Trees stamp by Paper Rose and decided to share one on my personal blog- it could use some visits since I've neglected it a lot and am trying to give it some life again.
For my first card, I'm embracing the winter weather I know many of my friends in Canada are facing on a regular basic.   I selected a few shades of Distress Ink (Iced Spruce, Speckled Egg, Shaded Lilac) and smooshed them onto my craft sheet, then misted them with water and picked up the color with my folded card base.  I dried with a heat tool and then dipped it again in what was left of the ink until I got some splatters I was pleased with.  I used an ivory card for this, but tried with another white card base as well and found it to be too absorbent for this technique.  Keep that in mind if you're doing something similar at home, not all card stock is created equal and sometimes you have to play around with different mediums to get the results you want!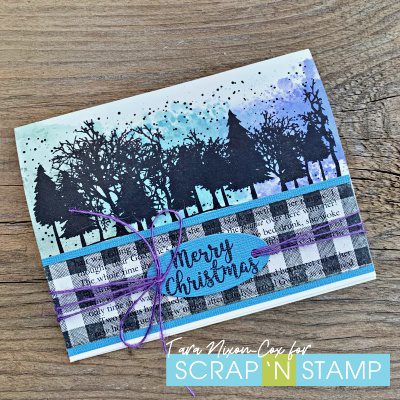 The stamping on this card is all done with simple black VersaFine Clair Nocturne Ink.  I stamped over the trees once the background was dry.  I also stamped the MFT Buffalo Plaid Background over some book print paper and I really liked how it turned out, so I've decided to use a strip of it on my card.  I selected a scrap of blue card stock that matched my inks and layered it behind the plaid as well as die cutting an oval label (from an old Spellbinders set). I stamped one of the sentiments from the Winter Trees set on the label and tied it on the card with some thin purple jute.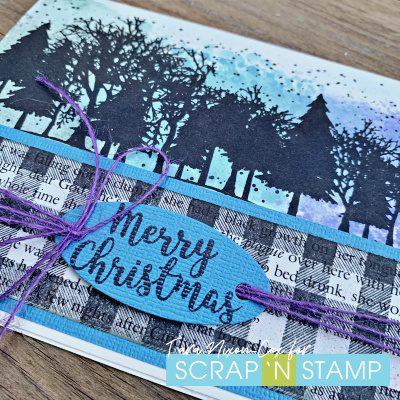 And that finishes off my simple sweater weather card!  The cool colors definitely have me thinking about bundling up in something cozy 🙂
Next up in the hop you'll visit Nancy– you've already seen a little peek at her card in our hop graphic, so you know it's gonna be fab!
Here's the full hop order, be sure to leave us some comments along the way and check back in a couple weeks for us to announce the winner!
Thanks again for joining us today!
Inky hugs,
Tara