Tara' s Blessed to Know You card featuring stamps from Honey Bee and Concord & 9th is a great way to let someone know you care.  Raya here for Tara again, she'll be back next week, I hope waiting to hear if Fiona created any chaos in her life.   Decided to reshare this card because it gives me the sentiment Honey Bee and the fab orange background created with Concord&9 just give me the warm fuzzies.
Original Post —-
Happy Tuesday!  I'm working on getting myself mentally prepared for Thanksgiving next weekend (it's a little bit harder when you live in the south, y'all), so a card celebrating how blessed I am seemed fitting!  Of course, I'm using the 'blessed' dies from the Honey Bee "Bitty Buzzwords" set (it's just so pretty!) and I decided to pair it with an older stamp set by Concord & 9th which is still in stock – Just Because.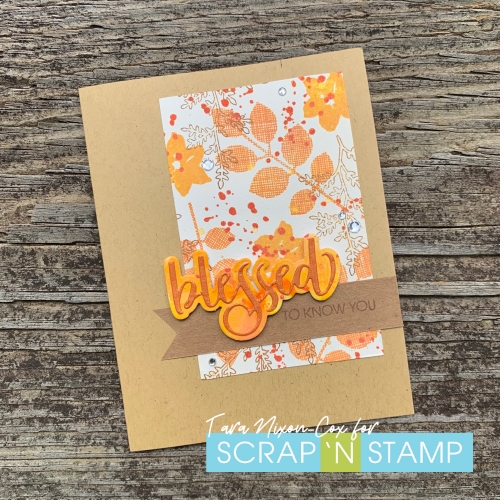 I started this project digging through some scraps to find something I wanted to die cut my word out of… here I've used some orange metallic card stock over a background made from Dina Wakley Media sprays.   Once I started with yellow, I really wanted to find a sunflower image to pair with it… but that's just going to have to be something that goes on my wish list, I guess!  I noticed the sketchy blossom in this stamp set, however, and decided together with the leaves, branches & splatters that it would be a good fit!   I stamped in Distress Oxide Inks exclusively- Crackling Campfire, Wild Honey, Spiced Marmalade & Vintage Photo.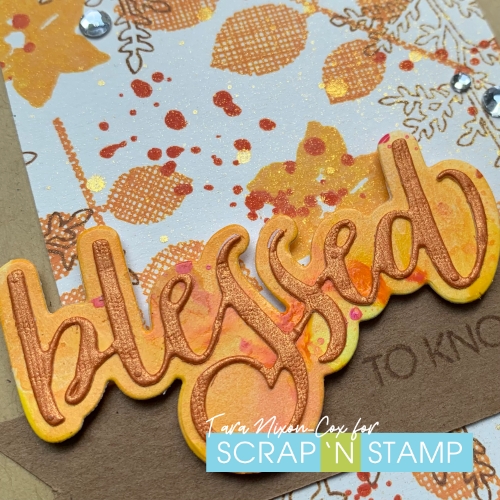 I added a bit of shimmer to finish off my otherwise simple card.  While I don't have any of the Mica Sprays, I do still have a good supply of Perfect Pearl Mist (which I'm guessing are like the Mica Sprays without the dye in them) and so I've used the color Sunflower here.  If you've got the Perfect Pearls powders, you could create your own sprays simply by mixing them with water in a spritzer bottle.   A bit of clear bling finished everything off!
Inky hugs,
Tara
Tags: distress oxide ink, honey bee stamps, ranger, Simple Stamping, Tuesday with Tara