Hey friends!  Happy Tuesday… today I decided to continue playing with Sketch Greenery stamps & embossing powder and show you a simple resist technique.  But then when I was reaching for clear embossing powder (which I may or may not have to add to my craft shopping list!) I saw Distress Embossing Glaze and the rest, well that's history I suppose!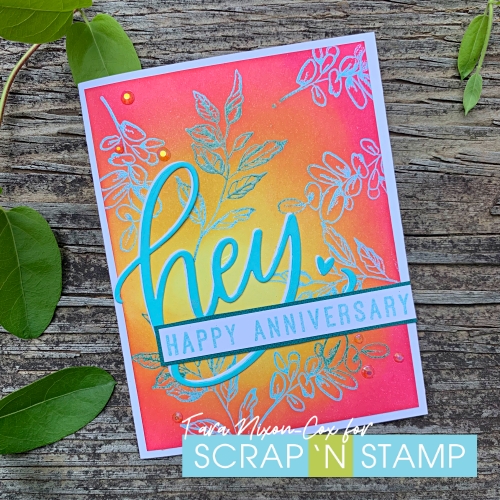 I filmed another video while working on this background and card, and I'm hoping to get it edited and uploaded this week.  I'll be sure to link to it here if I ever get it together!
I wanted to use stamps from the same set I used for the blog hop, sketch greenery but with some definite non-Christmas vibes!  I decided on a more tropical color scheme and it's definitely a step away from my usual.  I stamped two different greenery images in Versamark Ink, then embossed with a mixture of two Distress Embossing Glaze colors- Rustic Wilderness & Salvaged Patina.  I love how the two colors mix together on some of the leaves, but I love the way the resist pops over the lighter Patina color especially!  I'll definitely be trying some of my lighter colored glazes on this technique later on.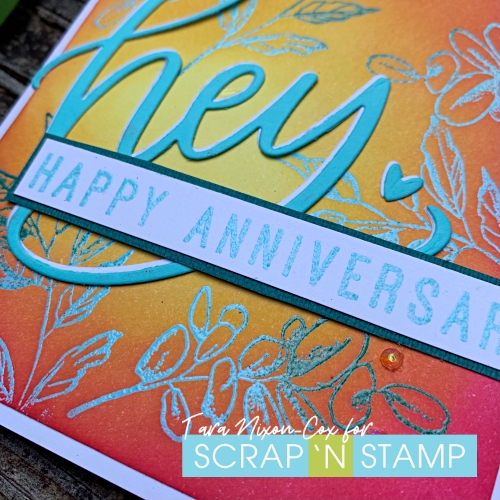 Over the embossed design I did some inking in yellows & coral/pink and it definitely is giving off those tropical vibes!  I had left an open space in my design, so I decided to make it the focal point instead of hiding it.  I started my blending with Distress Inks: Squeezed Lemonade (pale yellow) in the center and abandoned coral around the edges.  I blended between them with Fossilized Amber and finally decided to brighten up the corners a bit with some Picked Raspberry.  So fun!
The anniversary portion of the sentiment was embossed with the same Salvaged Patina embossing glaze.  It was a great match to the Cardstock I cut the MFT 'hey' from (I can't get enough of this die!).  I layered it onto a white cut to tie the sentiment and card base together.
Of course, I had to use the full anniversary sentiment on the inside of the card- "You guys make marriage look easy peasy" just because it's marriage goals.  I love this fun set by Heffy Doodle!
Hope your week is off to a great start!
Inky hugs,
Tara