Happy Canada Day and welcome to the Scrap 'N Stamp July 2020 Canada, Eh! Blog Hop!  We are excited to be hopping a few days early this month so we can properly celebrate Canada Day with all of you!
Be sure to leave comments along the way as you hop- you'll have a chance to win one of 3 Canadian prize packs this month (there will also be opportunities to win on Facebook & Instagram)!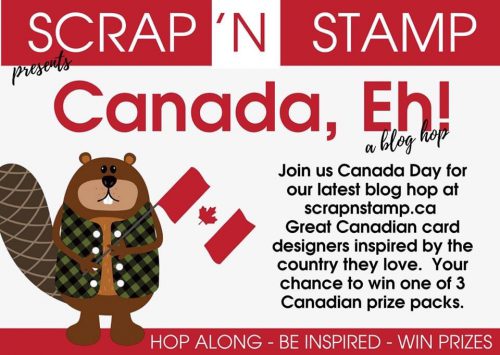 Today I'm kicking things off using stamps, dies, ephemera & paper O Canada collection designed by Becky Fleck for Photo Play.   It's got a lot of fun elements, though I have to admit I was a bit creatively challenged this time… probably because it's been too long since I've been back in my "home & native land."  It looks like future travels from my current home in the south back to British Columbia are probably in the distant future, so I decided to embrace the 'eh' factor, which I tend to do when I feel a bit home-sick for Canada.
Since colouring a beaver (we're calling him Rocky.  Do you recognize him from the hop graphic above?) was one of my many challenges, I chose to stick to some simple brown shading on white and added a paper pieced vest.  As I played around with patterned papers & ephemera pieces to decide on a layout, I thought a window opening would give some fun dimension.  I used a strip of plaid paper to give Rocky something to stand on and added my die cut speech bubble and ephemera around him.  A bit of red twine tied around the bottom of the card adds some fun texture.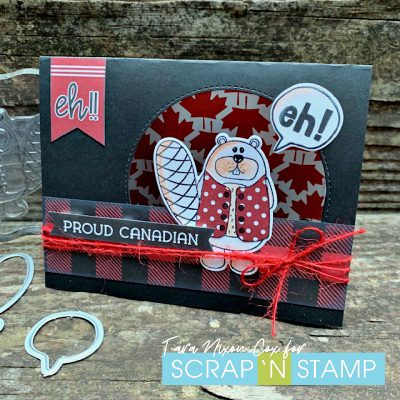 Inside the card I added a die cut rectangle of maple leaf paper and added a second die cut of Rocky & strip of plaid paper to stabilize the 'floating' elements in my window.  I stamped one more 'eh?' to tie it all together…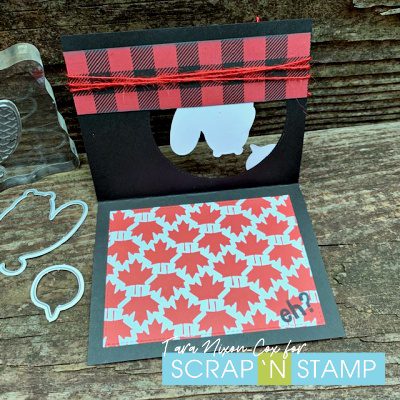 Here's a closer look: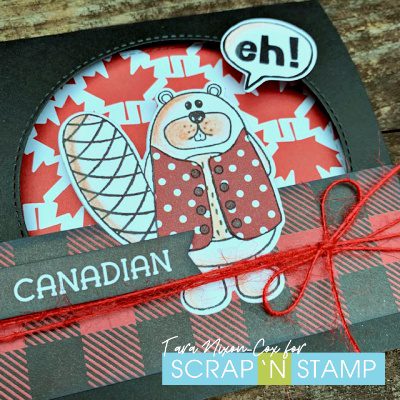 It turned out not too bad for a creative slump, eh?  Trust me… you're in for a treat when you see what the rest of the team has come up with!
Here's the full list of links for today's blog hop:
Enjoy, and Happy Canada Day, Eh!
Inky hugs,
Tara