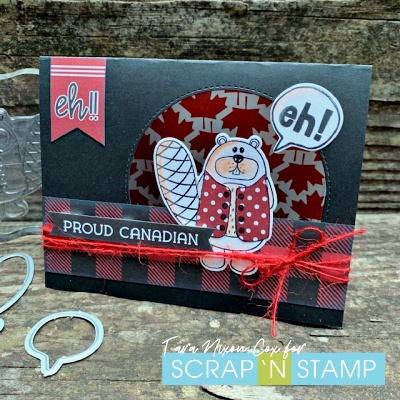 Hope you have a fabulous Canada Day!
(card details can be found in this post in 2020)
The calendar has moved into SPRING here in Canada! (I'm just gonna ignore the snow in the backyard…) And so my word for today's Random Acts of Cardness challenge: SUNSHINE. I was tempted to make a beach scene, because wow, I miss the beach 😉 , but then my thoughts turned to Easter: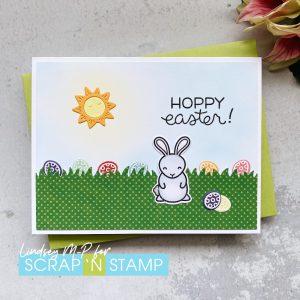 I still wanted to make sure my sun motif was prominent, so I started blending my sky background with some squeezed lemonade distress ink to give my whittle sun a nice sunny glow around it. The rest of the sky is blended with tumbled glass distress ink to keep the background light. I was going to cut the grass out of regular green cardstock, but this Photo Play polka dot paper happened to be out, and I thought it would be a fun addition.  The Easter bunny, eggs and sentiment are all from a mini Lawn Fawn stamp set. There are days I might colour all the different Easter eggs… and days like today when I cut them from scraps of coloured cardstock. 😉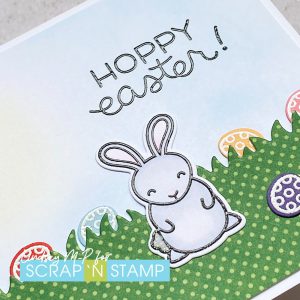 Are you like me, ready for some spring sunshine? Hope you'll play along!
Happy Friday! One week today… Christmas Eve! Are you ready? I've got a card for today's Random Acts of Cardness prompt, WINTER – and apart from a little drying time, it was quick and easy to make, perfect for this time of year.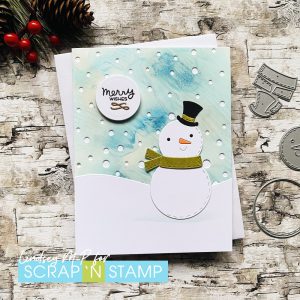 This card also gave me a chance to use three new-to-me supplies – the Photoplay falling snow coverplate for my background, my whittle friendly snowman die and distress mica spray for the scarf and hat band. For my winter sky, I tried a technique Jennifer McGuire recently showcased. On Yupo paper, I added a generous amount of blender solution before adding blue alcohol pearl ink, and then smooshed a second sheet of Yupo paper on top. This definitely solves my tendency to add too much ink! I like the wind-blown look the smooshing added, as well.
For my whittle snowman (who is obviously not so "whittle'), I cut his head and body out of white cardstock, his hat and eyes from a scrap of black and his nose from an orange scrap. The hat band and scarf are from a scrap of white that I sprayed with holly branch mica spray – I'm impressed with how evenly it coats the paper and leaves a velvety shimmer. The sentiment is from a Lawn Fawn tag set – I chose it as it fit perfectly on a circle the same size as my snowman's head. 😀   It's popped up on a circle of fun foam for a little dimension.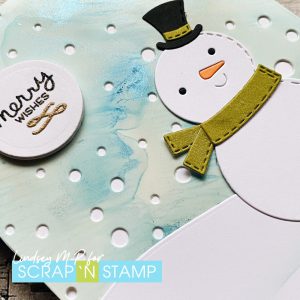 If you make a wintry card, I hope you'll link it up for a chance to win a $50 gift certificate to the store! Have a great weekend.