Hello & welcome to our September Blog Hop- For the Birds!  I'm a sucker for bird stamps and dies, but when I started to plan my design for this hop I realized it's been a while since I got a new one.  I'm sure after seeing the cards the rest of the team make I'll have a big wish list 🙂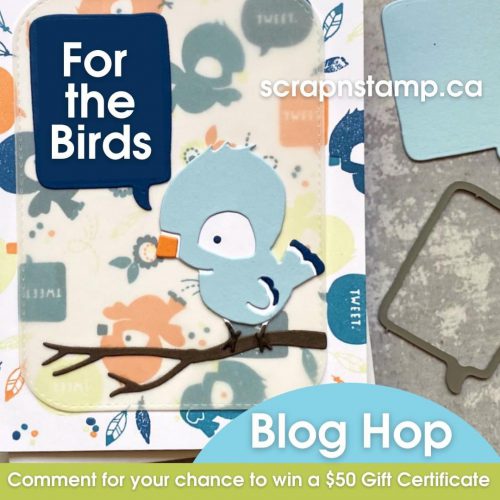 As usual, we ask that you leave us some comments along the way as you do the hop- we'll be selecting one special commenter to win a $50 gift certificate to the SNS online store!  You'll also find some great savings there this weekend, so be sure to check it out!
For my card, I decided to feature a favorite of mine, the feathered friends dies by Tim Holtz.  It had been a while since I've made anything with these, so I started by inking up a bunch of backgrounds so I could cut multiple times and mix & match them.  I wanted to pair with one of the backgrounds I made the other day when I was playing around with my Distress Inks & Floral Outline Stamps, so I chose one of the more neutral colored birds to complement the flowers.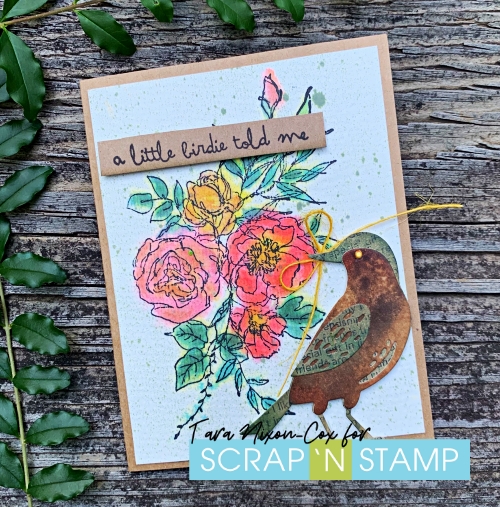 I overwatered the background with water to try to bleed the colors out… which didn't work quite like I wanted, but still made a nice, soft design.  I spritzed over it with bundled sage Distress Spray Stain to tie it together with the greens in the bird as well.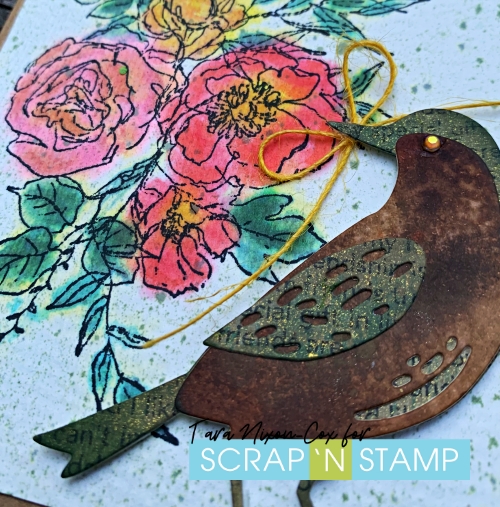 As you can see, the inky green part has a text pattern and some gold shimmer to it!  I don't have any of the new Distress Mica Sprays, but I have plenty of shimmery things in my stash to help me improvise 🙂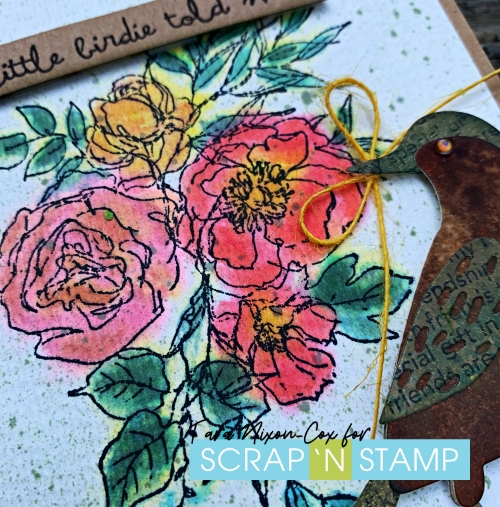 My little sentiment is from an older Tim Holtz set, Crazy Talk. It's got a bunch of great sentiments to mix & match AND it's still available to purchase!
Now it's time to carry on hopping!  You are here with me, Tara and your next stop is Susan.  Enjoy!  Don't forget to leave some comments for a chance to win!
Thanks for visiting, and have fun!
Inky hugs,
Tara