Hi Everyone! This is Susan and today I'm playing with a product I've never used before. I've seen other people use it and have always loved what they've made so I thought it was time to pull out the two jars that I own and have some fun.
I'm talking about mousse. No, not chocolate mousse although that would be good. I'm talking about Nuvo Expanding Mousse. I have Aquamarine and Mother of Pearl.
These are three of the cards I ended up making.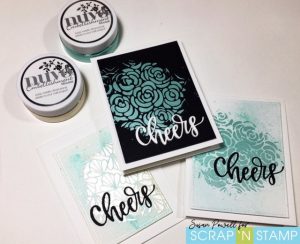 I started by taking a tiny amount of the aquamarine mousse, putting it into a small spray bottle and adding a small amount of water. I had planned to take pics along the way but honestly I was having so much fun I forgot. I do have a few but not many. Next time I'll do a video.
Give the bottle a good shake to mix it all up and then spray it on some paper. I sprayed it on white, black and watercolor paper. The white paper is on the left. The black one doesn't show up well in the pic so I didn't bother.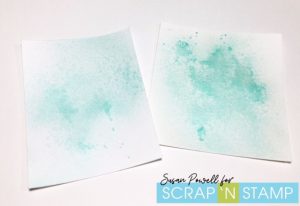 Next I grabbed a stencil and a palette knife. I laid it over top of the sprayed panels once they were dry and then added the mousse over top in a small section. When you're done be sure to remove the stencil by lifting it straight up so as not to mess up the mousse. And also clean your tools right away – they're so much easier to clean before the product dries.
I die cut each one with the Lawn Fawn Stitched Rectangle Dies and added it to a white card base with craft foam.  I didn't want to cover up the flowers so I used the Cheers Die from My Favorite Things for the sentiment and called these cards done.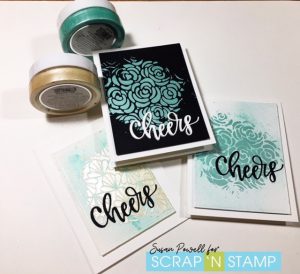 I thought it would be fun to try watercoloring with the mousse so I put a small amount on a large block, added some water and mixed it up. The small amount you see on the left was actually too much – a little goes a long way for this technique.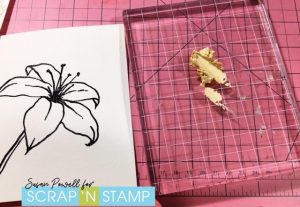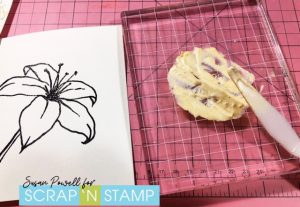 Next I grabbed a water brush and set about 'painting'. I put it in quotations because all I really did was fill in the petals and did a little bit of shading. It wasn't hard at all and it was fun so that's a win in my books.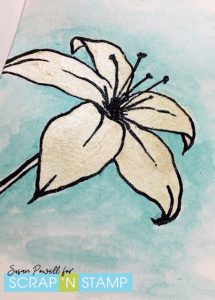 When the panel was dry I die cut it with a stitched rectangle die and added it to some black card stock with craft foam and adhered that directly to a white card base. I was going to use the word die again but decided against it so I placed the card in my stamp positioning tool to stamp a sentiment. I knew I was going to have to stamp it multiple times since I was using watercolor paper and a stamp positioning tool is perfect for this.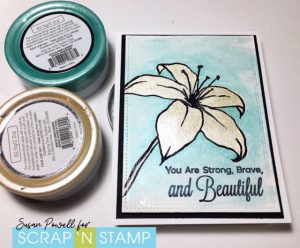 So that's it. I had a ton of fun playing with the mousse. I tried three different ways today – spritzing, stenciling and painting. I'm sure there's more ways to use this product and I plan on learning what they are.
Happy Stampin'
and thanks so much for visiting!
Stay safe everyone!!
Susan
Shopping list:
Below are links to all the goodies I used, just click on the icon to be taken to where you can purchase the product. If you use my affiliate links when shopping there is no additional cost to you, I want to say thank you and that I appreciate it and you very much.