Hi everyone!  I have had a lot of requests for Glitter Tutorials lately and I will be posting a few different techniques in the weeks to come.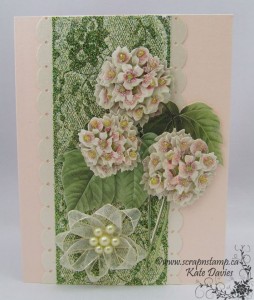 Today I am going to show you how to make Glitter Lace. It's really easy to do and has a real 'Wow!' factor. I used Studio K Ultrafine Transparent Glitter (Crystal Rainbow), Studio K Ultrafine Opaque Glitter (Forest Green), Studio K 1 1/2″ Double-Sided Adhesive, smooth white cardstock and a piece of flat polyester lace and in just a few minutes made this beautiful accent for my card. As you will see in the video you can change the look completely just by using different colours of glitter and pieces of lace.
Here is another card we used glitter lace on. As you can see the look is quite different when we changed to colors of glitter. Much more dramatic.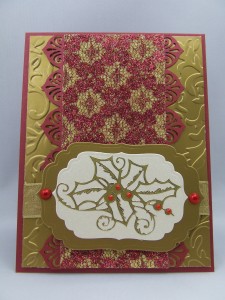 I hope you enjoy this technique. It's a lot of fun and a little bit addictive and you will definitely sparkle when you are finished playing with it!
Happy crafting.