Happy Friday!  I can't believe it's the end of May!  It doesn't help that in Calgary we've had the heat on until just the last couple of days.  I sure hope the warm weather sticks around as we move in to June!
I chose a word that isn't a word for my last Scrap 'n Stamp Canada Random Acts of Cardness post for May…. the word is "swink".  And what on earth is "swink"?  Well, I think my friend Ardyth coined the term…  it's the fun way to say "direct to paper".  You simple swipe your ink directly to your cardstock….  swipe+ink= swink!  It's a great way to throw together a quick and easy background.
If you know me, I love a good rainbow in my cards, so of course I swinked my inks to create a rainbow!
I started out with my card on a piece of scrap paper in front of me, angled so that I had a comfortable way to swipe the ink pad towards me.   I simply took my first Tim Holtz Distress ink cube (I started with Mustard Seed after finding the middle of my card front) and I swiped it along the side of the card towards me a few times, letting up the pressure as I moved along to create a whispy edge.  I overlapped my colours just a little but to ensure I didn't have any white spaces between colours.  I used Picked Raspberry, Spiced Marmalade, Mustard Seed, Twisted Citron, and Peacock Feathers.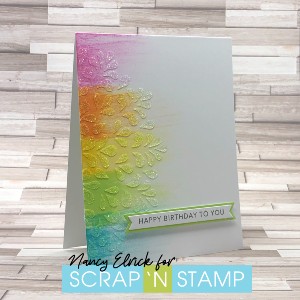 I set my card aside for a few minutes to let the inks dry completely.  I then used some Purple Tape to place a the Gina K Mandala Burst stencil over the left side of the card and I used a palette knife to spread Nuvo Glimmer Paste in Moonstone over the stencil.  I removed the stencil and set aside my card for about 20 minutes to let that Glimmer Paste really dry.  I stamped the Taylored Expressions Simple Strips stamp on white cardstock in Versafine Clair Nocturne ink and cut it out with the Taylored Expressions Simple Strips die.  I cut out the Simple Strips Backer die in white as well and "swinked" the Twisted Citron ink across it to create a backer for my sentiment.  I added it to the front of the card with some foam tape.
What do you think?  Think you'll try it??!