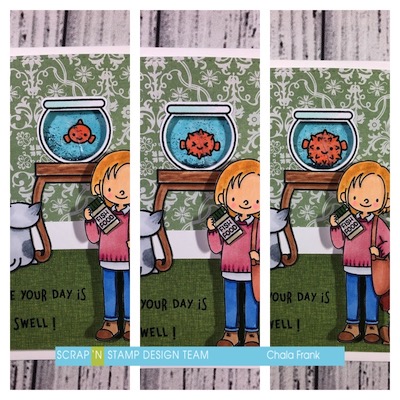 Hello Again! It's Chala and I am here to share a cool technique to add extra dimension to your scene cards! We will be using some great products from Lawn Fawn including the Reveal Wheel die cut set, the Keep Swimming Reveal Wheel add-on and the Keep Swimming Stamp set. I will also be sneaking in some images from the Friends at First Sip stamp set from My Favourite Things. There are many stamps sets from Lawn Fawn that would work for this technique like the Loads of Fun or Fantastic Friends stamp sets just to name a few!
This post will be a bit different as I will only be sharing in writing the list of supplies I used and then directing you to the video to see how the card was made. I will list the materials with links below. I often find it difficult to explain in writing the process of making cards and today this has become even more difficult today with a migraine. 😔
So, without further ado….here is the link to the video and remember the list of materials will be listed below.
I hope you enjoyed the video and that you are inspired to create your own 3D card and share it on the Scrap'N Stamp Facebook Challenge Page.
Here are some close -up pictures of the finished card and the materials used are listed below. Have a great day!
~Chala, xoxoxo
Materials:
White Card Stock
Stamp Perfect or any stamping platform
Copic Markers
Brad
Small sealable baggie
Blue Glitter
Water or Hand Sanitizer
Scissors
Foam Tape &/or Foam Tape Squares