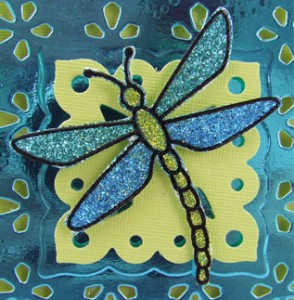 Hi everyone! I have a really fun technique that I want to share with you today that makes it easy to create beautiful glittered accents that you can use on many different types of projects.
I'm going to show you how to use your Outline (Peel Off) stickers in a whole new way. Instead of just using the outline and leaving the rest behind you use the whole image and the inner pieces become a mask. It's sooo cool! Now your different colours of glitter don't get stuck to the wrong place. It goes on and stays just where you want it.
I should warn you though…this technique is very addictive and you may sparkle for awhile from all the glitter. LOL!
So, how do you do it? It's easy! Just watch this video to see how.
Supplies you will need for this technique:
Outline stickers – we used some from Elizabeth Craft Designs
Magic Tape (made specially for use with Outline stickers)
Cardstock – smooth works best
Double-sided Adhesive – Studio K Double-sided Adhesive or Scor-Tape for best results and they come in the wider sizes and sheets you will need for these types of projects
Studio K Opaque or Transparent Glitter – a variety of coordinating and contrasting colours
Tweezers
Scor-Tool
Scissors
Glitter Clean Up Cloth
Large fluffy brush
Coffee Filters or scrap paper (to place under your project & catch the extra glitter)
I hope you enjoyed today's tutorial and give them fun technique a try.