Tara's Toucan of  My Appreciation card features  the Toucan Paradise stamp set from Concord & 9th.  Raya here sharing some oldie but goodies with you while Tara is on the move.  I think if I was moving my craft stuff is the last stuff I'd pack and the second I'd unpack. Kitchen first can't unpack or craft without coffee!
Tara's original post —
Happy Tuesday, and happy birthday to ME! I'm definitely feeling another year older this year, but every day I wake up is a gift I am grateful for! I want to take today to share a TOUCAN of my appreciation with you. Yep, I've got another card (actually TWO) featuring the fun Toucan Paradise stamp set by Concord &9th, together with Distress Oxide Inks.
I'm so grateful for each of you that visits the SNS blog every Tuesday to see what I've been up to! I'm making an effort to share more on Instagram and here on my personal blog this year. I'll try to mix things up and keep the inspiration coming… so I hope you'll check those out too! I'll be having a little giveaway on my Instagram account, so come visit me, msespresso, there!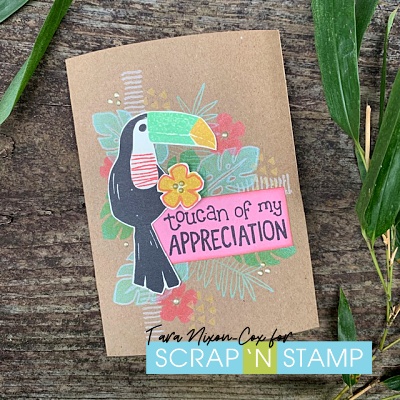 Card Elements
Today's card has a lot of the same elements you might remember from the one I shared a couple weeks ago. This time I went with Abandoned Coral as my main accent colour. The rest of the colours are actually the same, isn't it amazing how changing one colour can give it a much more feminine feel? I also added a few stripe details & the leaf outline in Pumice Stone, which really lightens things up! I love the addition of that pale grayish tone in the mix!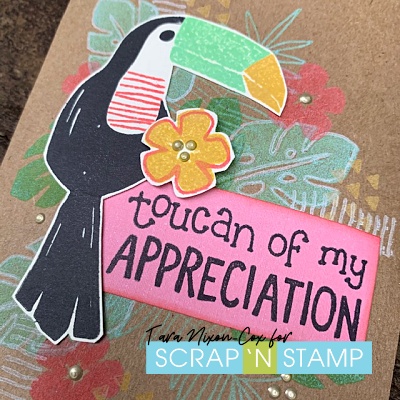 Simple Stamping
My second card was made ultra simple to coordinate with the first. It was inspired by a CAS (clean and simple) challenge on instagram to stamp 'along the edge' of your card. I'm loving the foliage in this Toucan Paradise stamp set, so I used just the leaves & flowers for this card. I've noticed that most cards people share as CAS are on a white base, but I think a kraft card can still look clean 🙂 This simple design will look great on white as well, so I'll be duplicating it in the near future, I'm sure!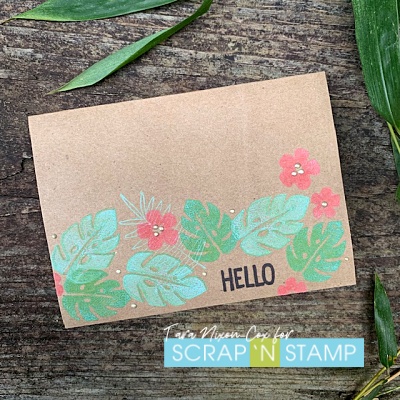 Thanks again for stopping by to see what I made! I hope you'll look me up (msespresso) on instagram- follow me & leave a comment… perhaps I'll be sending you some happy mail soon!
Inky hugs,
Tara
Tags: Concord & 9th, Distress Oxide, simple cards, Tuesday with Tara