Happy Tuesday!  Sometime mid-January I start to think about moving on to the next holiday with my cards & home decor, so I'm sharing another fun throwback.  Today's card has some Valentine's Vibes and a fun twist on a tropical stamp set, Toucan Paradise by Concord & 9th!  I pulled out a mix of pink, coral & orange Distress Oxide Inks (the newer color, Kitsch Flamingowould be a great addition!) for a fun slimline card!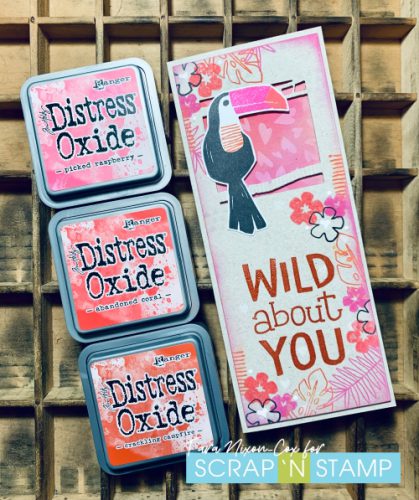 It felt really good to pull out these tropical stamps and cheerful colors in the middle of some chilly weather!  I used the three colors you see above, Picked Raspberry, Abandoned Coral & Crackling Campfire (along with black & white) in Distress Oxide on the card base and with regular Distress Ink on the toucan (I found I lost some of the detail on his beak with Distress Oxides).  There's a ton of great images in the set- flowers & leaves & fun texture stamps.  I dug through other stamp sets to find a tiny heart to add in a few of those.
I was tickled when I looked at the Picket Fence Slimline dies and looked at the tree window sideways and noticed it was perfect as branches for my bird to sit on!  My card base is the same oatmeal color as the top layer, but I did a bit of ink blending in Raspberry & Coral, then stenciled some hearts with Picket Fence Distress over it.  The top layer was adhered to the base card with some foam adhesive squares to make the background stand out a bit more.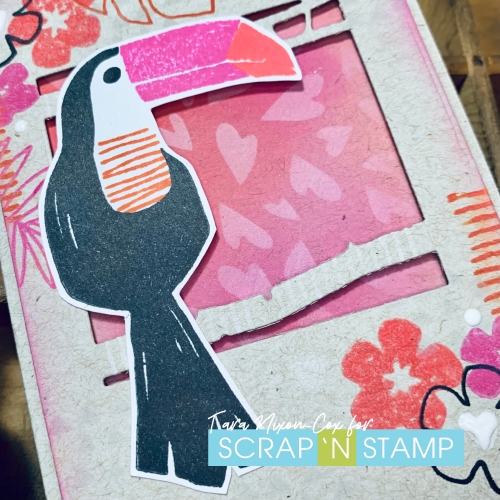 I heat embossed the large sentiment, which was great for a tall card like this one, with Distress Embossing Glaze in Crackling Campfire over Versamark (clear) ink.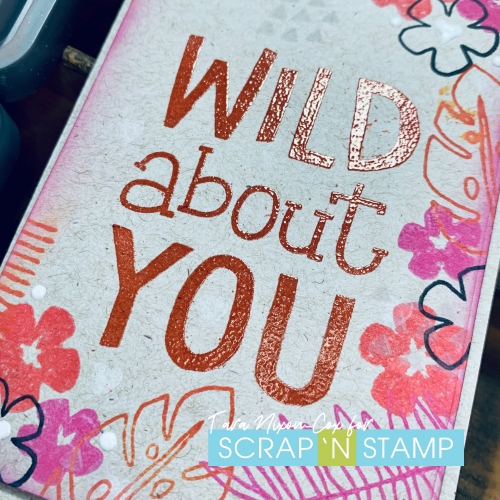 Do you enjoy making cards for Valentine's Day? I have to confess, even through my many years as a single woman, I've always loved making fun Valentine's and coming up with new ways to use my stamps to celebrate love & friendship!
Inky hugs,
Tara