Hi All!  Nancy here with my take on todays Random Act of Cardness Prompt… and since I put an "s" on the end of my prompt word, I decided I should use more than one stencil.  I used two LOL!
I honestly didn't think I'd ever "get in to" stencils… when I first started seeing them it was a lot more mixed media stuff and it wasn't my style.  I don't know what changed (probably me) but I have found myself gravitating towards stencils when I'm shopping.  To the point of wandering around a trendy shopping area in Calgary on the weekend and stopping in front of the art store because of all the stencils they had hanging in the window display.
I wish I had taken photos of the process, but honestly, I was in the creative zone and didn't even think of it.
I started out with the smaller white panel for the front of my card.  I used a Taylored Expressions Masking Stencil and some inks and blending brushes to create the centre panel.  I set it aside to dry for about a half hour before carrying on with the card because I didn't want to work on top of the colours if they were still wet.  I then adhered a patterned stencil on top and using Purple, masked off everything except that colour rectangle.  I put a layer of Glimmer Paste over top and once again, set it aside for about an hour so that it would fully dry.
The rest of the card came together easily using my Layers Guide to create that great 1/16″ mat behind the front panel.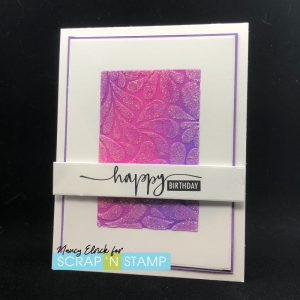 Items Used:
*Cardstock:  Neenah Classic Crest Cover Solar White; Lawn Fawn Sugarplum