Happy Tuesday!  Today's post is celebrating what happens when you take an artist/teacher's advice to 'make a hot mess' (thanks Dina Wakley!)… it happens when I feel like my mojo has left and I just start pulling out paint and random materials and see if I can make something cohesive… something that feels complete at the end of the day.  Sometimes it's still just a hot mess. And sometimes it's unlike anything you every intended to make… but at least you made something 🙂  Art is a big learning process.  One thing I've learned from the 'big names' in this industry that you don't get anywhere if you don't take risks.  You don't discover new things if you don't let yourself ask 'what if' and you don't grow and improve if you don't practice and make a few ugly things along the way.
It's an easy thing about working with paper, ink & paint and stamps & die cuts… you can always paint over and try again.  Or you can add another layer or just set it aside and see if perhaps you'll learn to like what you made!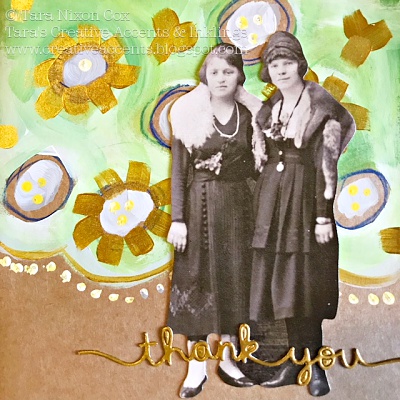 I was not loving my background.  It was inspired by a kraft page I did in my art journal, but It felt a bit boring and didn't feel complete… so in the spirit of St. Patrick's Day last week, I added some gold… and then these ladies helped me turn it into a Thank you card 🙂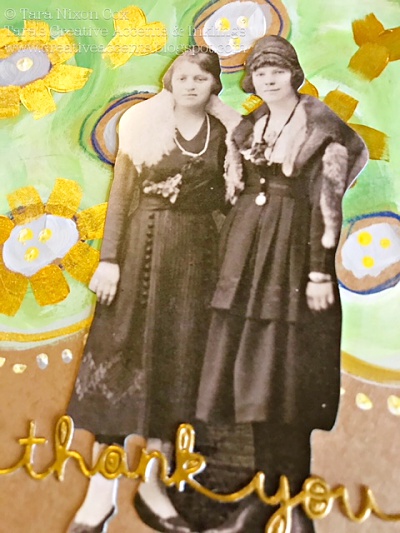 There's not a lot of technique to share here today, just wanted to encourage you to MAKE something!  Play with the supplies you left on your work surface… add paint or ink or water, and have some fun 🙂
Happy Tuesday!
Inky hugs,
Tara
Materials Used:
Dina Wakley Paints: gilt, evergreen, lime & white
Dina Wakley Scribble Sticks
Tim Holtz Paper Dolls
Thank you die cut by Lawn Fawn (not in stock, but this one by poppy stamps is very similar!)