This is card featuring Sizzix Scribbly snowflake dies and Tim Holtz Festive Words dies.  I figured it was appropriate as Canada gets yet another dump of snow – what perfect time to stay inside and create!  This is a throw back from our Christmas in July because Tara is dealing with her move – I hope you enjoy it!
Perhaps you remember  I had a bit of an oops with a bottle of White Dina Wakley Media Gloss Spray several weeks ago.  You can see the card & read about it here.  Since I had a puddle of white on my desk, I started grabbing papers & tags and assorted other things and dipped them in the puddle.  I suspected that since it has a glossy finish it would be fun for a resist technique, and I was right!  This card front was plain white Cardstock, which I dipped & dripped and splattered and left to dry.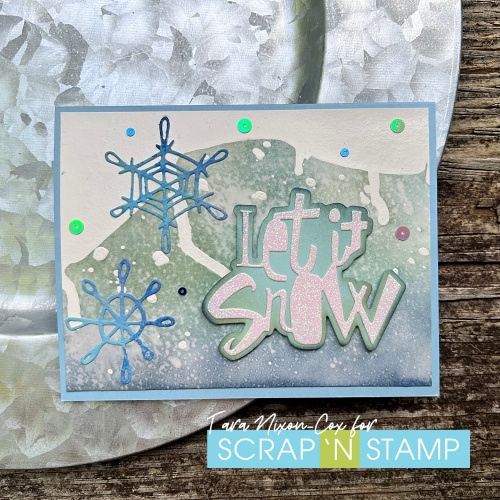 I die cut the Let if Snow from Tim Holtz Festive Words from Glitter Cardstock . Then added some colour blending to the solid layer behind it.  I found a couple of Scribbly Snowflakes left over from last year's holiday crafting. While I don't recall what colours I used, I took inspiration from them for the palette on this card- keeping the background softer to let them stand out.
I went to my old faithful, Distress Inks to do some colour blending over the card a subtle mix of Stormy Sky, Salvaged Patina & Chipped Sapphire.  Once it was blended, I spritzed with some water and wiped off the card to really make those glossy bits pop!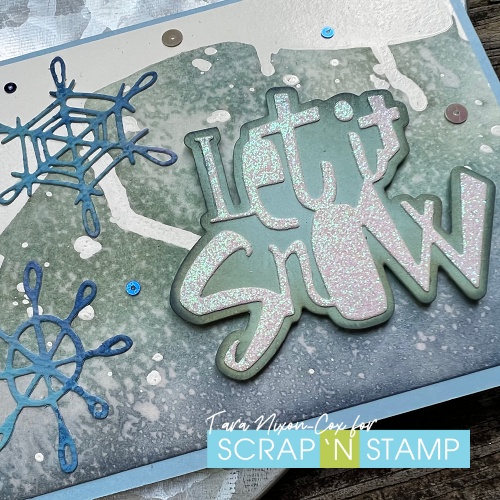 I finished everything off with a few sequins and mounted it on a light blue card base.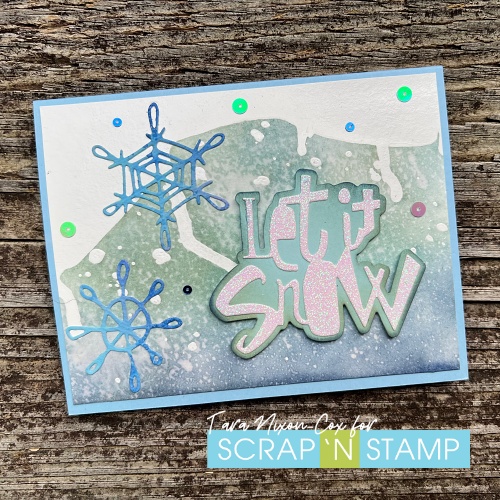 Remember it's never too early to start on Christmas cards.
See you soon!
Inky hugs,
Tara