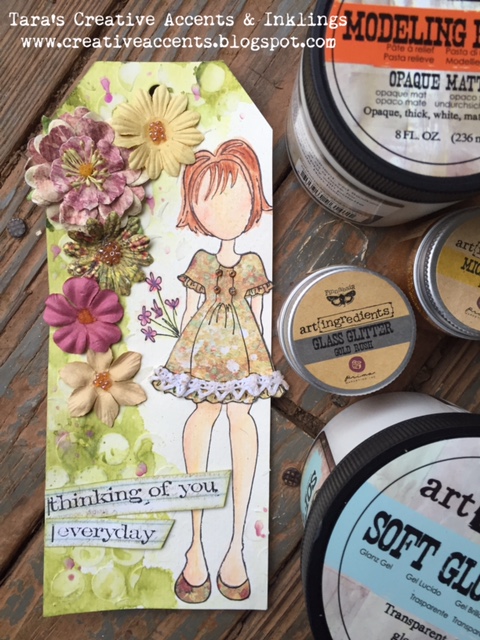 Have you heard the news? Prima is in the house! There are a ton of fabulous new products listed in the online store, and it's heavy with fabulous Finnabair goodness!   The tag I'm sharing with you this week has a few of those new items used on it,  plus several other great Prima products, but there are so many others that I would love to have in my hands to play with!
Two of my favorite products to use as flower centers are the art ingredients micro beads in "pollen" and glass beads in "plum" both of them look amazing when you dab a bit of soft gloss or matte gel in the center of a flower and place a few beads in it.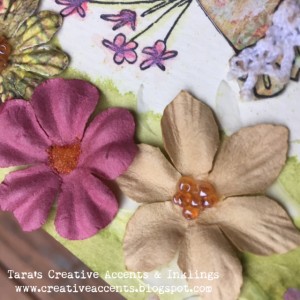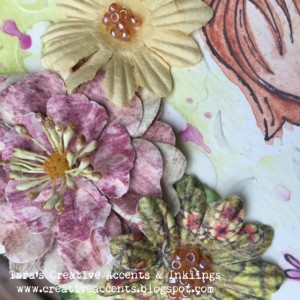 Seed beads make fun little accents like buttons on dresses!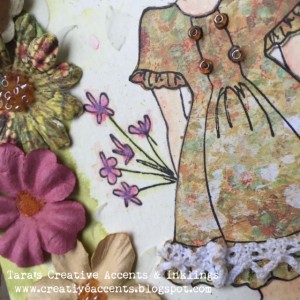 The background of my tag was created with the Art Basics Modeling Paste through a stencil, applied along one side of a watercolor tag beside the Julie Nutting doll I had stamped on the other side of the tag.  I like to stamp first when I'm doing something like this so I can apply paste around it, though if you are mass producing you can get a feel for where the paste fits best and do it first 🙂  Once the paste was dry I used Prima's watercolor brushes to blend out some color I added directly from a Distress Ink Pad (Peeled Paint).  I like the brushes ability to give as much or as little water as you want, and I wanted to take advantage of the drippy look you can get on watercolor paper!  (You can get a similar effect if you try out any of the new resist papers or canvas pieces that are new in the shop… so many awesome ones!)
The doll was colored with watercolor pencils and the dress paper pieced from patterned paper (6×6 pads and smaller are great for this because the patterns tend to be on a smaller scale) and a bit of lace trim was added to finish it off.
Here's another look at the whole tag: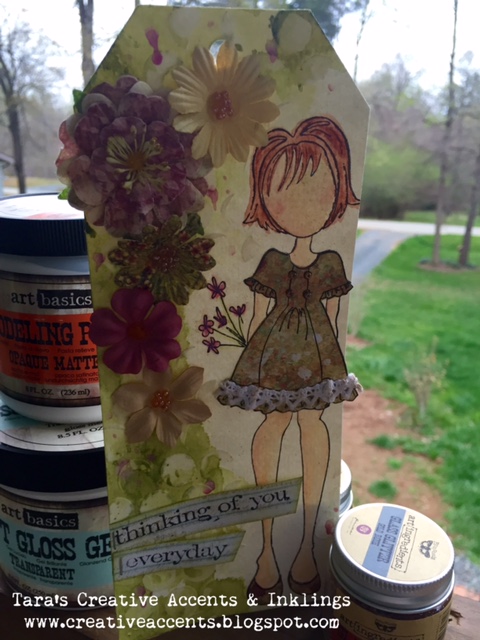 And I've got another giveaway, ending Sunday March 27.  Simply comment on this blog post or on our pinned facebook page post for a chance to win.  Please leave any comment you like, as simple as YES you want some new Prima goodies too 😉
Here's the prize you could win this week!   Some Ephemera and a clear stamp 🙂
Good luck!  Please tell your friends about the giveaway and be sure to check back to see if you won!
Inky hugs,
Tara