Happy Tuesday!
I set aside some ME time over this past weekend and took the facebook live class Dina Wakley was teaching using her Gloss Sprays.  I made a hot mess and had a blast… many of the backgrounds will be cut up for other projects since they don't really have that 'stand alone' quality, but I learned a lot and had fun.  I can't wait to get more colors and play some more!  I took a few of the pieces I created and turned them into a card to share with you for today's TWEET theme.  Enjoy!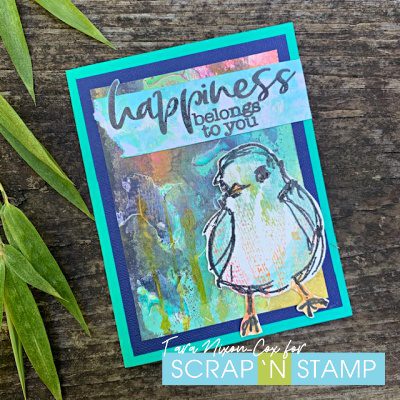 The main background features a resist technique we did with gesso.  I used colors from the first bundle for this project, I only have 6 of them so far but the other 6 are on their way.  I am already looking forward to purchasing the new release and getting 8 more colors!  The deepest color you see here is Night– it's a lovely deep, almost indigo blue and it really helped to ground the other colors I was working with.  For this, I applied gesso to watercolor paper very thin, then thicker through a stencil.
The scribbly bird and sentiment (from Picket Fence) were both stamped on backgrounds I created using a gel plate.  It was my first time working with the gel plate (though I've had it for quite a while) and I enjoyed seeing how paints & gloss sprays worked together on it.  I had several pieces that came out quite pale, like these, and I think they are perfect for stamping on!  I did add a tiny bit of color to the bird with a Scribble Stick, which gave it a bit of a watercolor wash.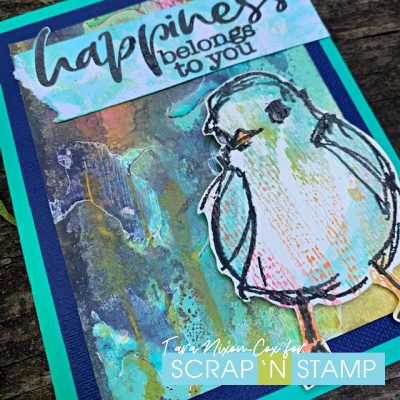 I kept my card very simple since the individual pieces had so many interesting details.  I wasn't able to capture the glossy finish of these sprays in my photos, but they really are fabulous and give so much texture!  I expect you'll be seeing a whole lot more from me using them in the future…  Can't wait to see what TWEET project you create today!
Inky hugs,
Tara