Happy Tuesday!  Today the challenge word that inspired my card was STENCILS and I was excited as I just got some new ones from Vicki Boutin recently.  I'm such a fan of her colorful work and this Wild Soul Stencil from the Storyteller collection is the first product I finally got my hands on… I didn't even notice it was a set of three! (I also got the 6×8 paper pad for some quick creations!).  I follow Vicki on Facebook and she often does tutorials, so I went looking for a fun stencil technique.  You can find the video I used as my inspiration on October 1- it's a fun one.
So I started with the technique she shared using Distress Ink, a stencil and a bunch of water on a smaller scale since I was working with cards instead of scrapbook page.  Once it was ready, I trimmed it down to size and then as I was contemplating my card (and the SNOW my hometown in BC got yesterday!) I added a layer of snowflakes using this great stencil by Paper Rose.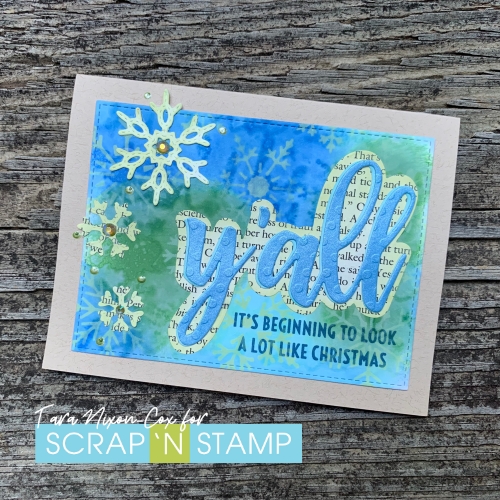 Once I decided I wanted to embrace the snow theme I went digging through my supplies.  I recently got this big y'all die from Picket Fence (which I don't imaging SNS will have anytime soon, but since I'm living in the south now it's something I had to have it) so I found a sentiment to pair it with.  These sweet stitched snowflakes are from Memory Box, which I thought was a nice touch with the stitched edge on my background.  A few elements cut from book print adds a really fun touch, and I inked them in the same pale green (shabby shutters) Distress Oxide ink that I used with the stencil over the background.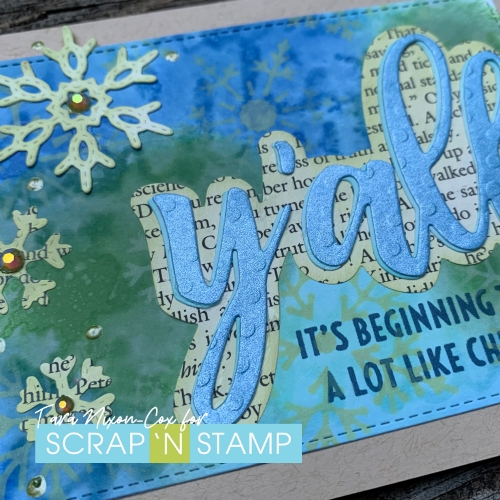 This background has almost a tie-die feel to it… which I'm not sure is something I've ever seen with snowflakes before, but I kinda like it!  Hope you do too 🙂
Inky hugs,
Tara