I absolutely love autumn!  One of my favorite things about moving south to North Carolina is that I can enjoy, decorate & make cards for autumn all the way through November. It's especially nice because I love buying new autumn stamps… like these Sketchy Leaves by Tim Holtz!  I almost resisted them, but the big maple leaf caught my eye as I don't think I've got one in all my other sets and it'll come in handy for Canada Day, too 😉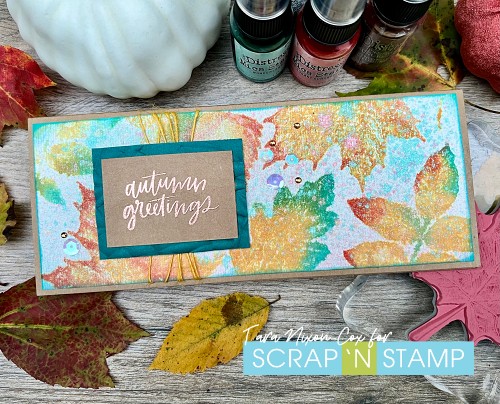 I decided to start with some simple Distress Ink watercolor- blending a couple colors on the stamp and misting it with water before stamping on watercolor card stock.  I trimmed my card stock to size for a slimline card so I could fit more leaves on it, then had some fun with Mica Sprays over my colorful leaves!  I've used a trio of Distress Inks, Wild Honey, Crackling Campfire & Peacock Feathers.  I misted over them with two of the new seasonal Mica Sprays, Sugary Gumdrop & Wonderland, then added a some Antiqued Bronze to tie it all together with the copper embossed sentiment (by MFT).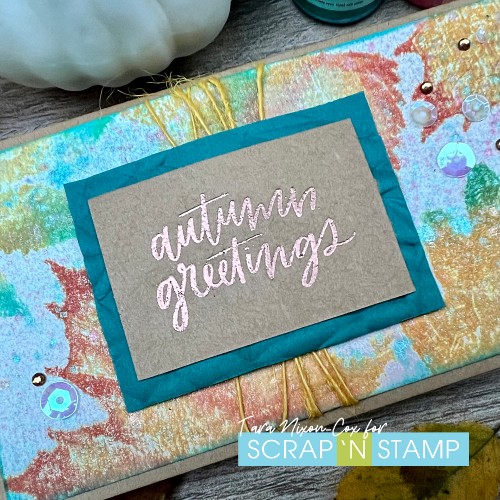 The mix of the mica sprays is so pretty & shimmery, it was hard to capture in a photo!  It's one of those combos I decided to try on a whim for this card, and I'm so glad I did!  I'll be playing with these stamps some more over the next bit… keep an eye on my blog or instagram account for a peek!
Inky hugs,
Tara