TGIF! Not just any Friday, but the Friday of the long weekend and the unofficial start of SUMMER here in Canada, yay! Lindsey here on the blog today with a card for today's Random Act of Cardness prompt: FOIL. I do have the Gemini FoilPress, and love the combination of foiling and letterpress effect that it gives, but I also enjoy foiling with a stencil and my die cut machine! So easy to do, and adds yet another way of using my stencils. And since it's the Friday of a long weekend, here's my card!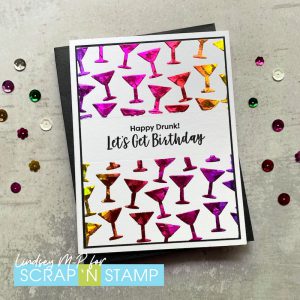 Rainbow martinis, yes please! I'm using a Martini Glasses stencil from Picket Fence – it's out of stock at the moment, but more are on the way! I started by masking off the middle of my card panel, then applied some transfer gel duo through the stencil using this little squeegee (best deal ever!), then left it to dry for an hour or so while I cleaned off the stencil and worked on another card. (Sure, I could have done housework or something, but why? :D) Once the gel had dried and turned clear, I cut a couple of pieces of rainbow shattered glass foil to fit my stencilled image, and ran it through my die cutting machine. And pow, shiny foiled martini glasses! I added the sentiment and embossed it with glitter embossing powder. (I know, I've used this sentiment before, but it's my current favourite!)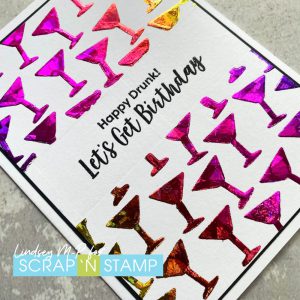 Have you tried foiling? I'd love to hear in the comments, or see your foiled creations on the Scrap N Stamp Challenge Facebook page! Don't forget to tag your posts with #snschallenge on IG and other social media. Have a great weekend!