Welcome to day 22 of May!  The month is flying by!  Speaking of flying….today's word prompt is birds!  I will be using the beautiful Color Layering Hummingbird stamp from Hero Arts.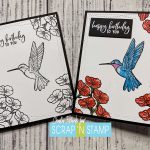 I think the hummingbird is one of my favourite birds and I am often excited to find them flitting about my flowers.  Here is a fun fact, did you know they have no sense of smell?!  They do however, have excellent colour vision!  I thought it would be fun to show you two different card looks – one with no colour and one using the layering stamps to play up how you can add the look of dimension to your image with different colours.
For the first card I simply use the first (or base layer) of each stamp image and stamp with Versafine Claire Nocturne ink.  I created masks for the hibiscus flowers.  You can use the Gina K Masking Magic sheets.  I unfortunately ran out so I used  Avery Removable Full Sheet labels.  To help remove the backing of the masking paper I like to use my Tim Holtz Retractable Craft Pick.  Once I had everything stamped out I then used the My Favorite Things Rectangle Wonky Stitch Die and secured the die onto the cardstock with some Thermo-web purple tape and ran it through my Gemini Jr. Die Cutting machine.  To finish off this first card I back it onto some Hero Hues Premium Cardstock – Pitch Black and then adhere it all onto an A2 side folding card base made from 120lb white cardstock with Art Glitter Glue.  I love the look of this simple black and white card.  If this is not your thing, you can colour the image in with Copics, watercolour or even coloured pencils.  However, this layering stamp has made it super simple for us to add beautiful colour and dimension, so that is what I have done for the next card.
The second card I stamped the exact same way as the first card but then stamped each layering image by following the easy to follow instructions on the back of the packaging.  The Distress Ink colours I used are Broken China, Mermaid Lagoon, Peeled Paint, Forest Moss, Abandoned Coral, Fired Brick and Ripe Persimmon. These inks are available in full size and in the minis. When I first started stamping I wanted ALL the colours, so I found it most economical to invest in the mini "First 36″ Bundle. This also is a huge space saver in the craft room!  I have only had to buy re-inkers for two of the cubes and I have had this set for 3 years!
I used the same My Favorite Things Rectangle Wonky Stitch Die and Hero Hues Premium Cardstock – Pitch Black cardstock.  The finishing touch for this card was adding Zig A Wink of Stella – Clear overtop of the hibiscus flowers to give them some sparkle.
You can check out the quick video tutorial by clicking here: https://youtu.be/IXuB4nUNHYE
Thanks for stopping by and enjoy the rest of your day!
~Chala
Tags: birds, Color Layering Stamps, Hummingbird, SNS Facebook Challenge