Happy Friday! Here we are into the second week in April, and for many of us in Canada, spring is finally starting to show itself. (Don't worry, I see lots of pics from BC of cherry blossoms and lawns being mowed, but not all of us are quite so lucky. 😀 ) With spring in mind, I chose OUTDOOR for today's Random Acts of Cardness prompt.  Today my outdoors includes goats!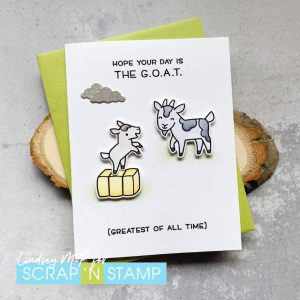 Story behind the card: my brother has a bit of a farm (or as we like to tease him, a petting zoo) and among his many animals are a number of goats. When I saw this new set from Lawn Fawn, I knew it would be perfect for a brotherly birthday card! Don't worry though, with the assorted sentiments, this set has goat your back 😀  for a variety of occasions. I stamped, coloured and die cut the two goats and little bale of hay and arranged them on my card base to see how they would best look. I added a little grass under them using distress ink and a dry paint brush. Once I'd added and embossed the sentiments, It seemed like it still needed a little something, so I added a couple of clouds in glittery silver. (I cut mine from a decade+ old Memory Box set; this one would work equally well.) My simple outdoor scene is done!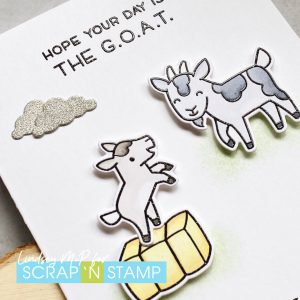 Perhaps with the warmer weather you're spending more time outdoors, but I hope you'll be able to make something and join us on the Facebook challenge page. Or, as I like to do, maybe you'll combine things and make a card while sitting outside! And if you've just goat to have this sweet set, or any other crafty supplies, don't forget you can use 10Lindsey to save 10% off your regular-priced order.