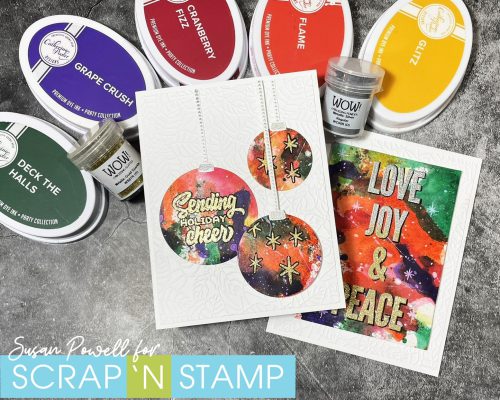 Hi Friends! It's Susan here with cards for today's Random Acts of Cardness challenge. Today's prompt is water. One of my favorite techniques is Ink Smooshing which you need water for so that's what I did. I ink smooshed a larger piece of paper then turned it into 2 Christmas cards. If you haven't heard of ink smooshing it's so easy that I'm sure it you'll love it.
There's two ways that I do it. First one is to smoosh the ink pad onto my glass work surface, spritz it with some water then smoosh the paper into the wet ink. Don't smoosh the whole paper into it – dab the paper into the ink in sections. Dry it with your heat gun, then repeat the process with another ink color. I did 5 colors on this one – it may not a traditional ink color combo but there is red and green in it so it works for me.
The other way that I like to do this technique is to use a piece of acetate. I smoosh my ink pad onto the acetate, spritz it with water and then instead of pouncing the paper into the ink I take the acetate sheet and dab it onto the paper. This way allows you to see exactly where and how much ink you're adding.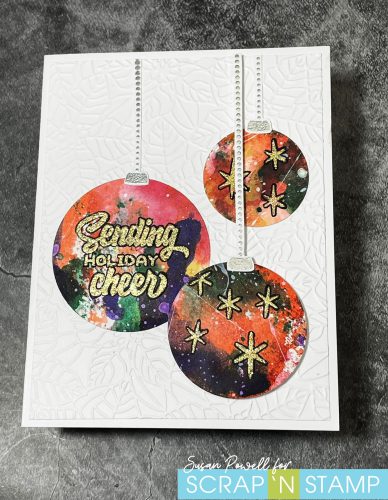 When the panel was dry I cut 3 different sized circles to make ornaments with and one panel using a stitched rectangle die. The sentiments, stars and strings to hang the ornaments with on the card above are from Taylored Expressions Beautiful Baubles Add Ons Stamp Set. I embossed them with silver and gold because I couldn't make up my mind on which one to use so I used them both.
For the card below I used the Full of Joy Stamp Set from Concord & 9th and again used both silver and gold to emboss the sentiment. I cut the panel with the second larges die in the Lawn Fawn Large Stitched Rectangle Die set.
I used a fine tip black marker to add some shadow to the embossing on both cards and I also used the Peaceful Poinsettia Embossing Folder from Taylored Epressions to emboss a piece of white card stock to add to both card bases before adding the ink smooshed pieces.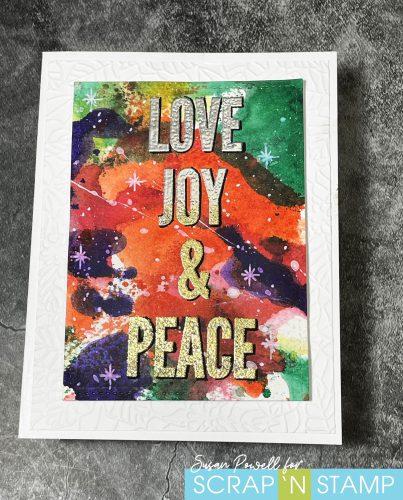 My favorite is the second one. Which one do you prefer?
Thanks for sharing part of your day with me 🙂
Shopping list:
I use affiliate links when I can. If you shop through one of my links it will allow me to earn a small commission at no additional cost to you. Thank you for your support!!