It's JUNE, friends, and we are celebrating all the 'Whittle Things' with our blog hop this month!  Yep, we're featuring the adorable Whittle dies by Poppystamps this month and believe me when I tell you, they are CUTE!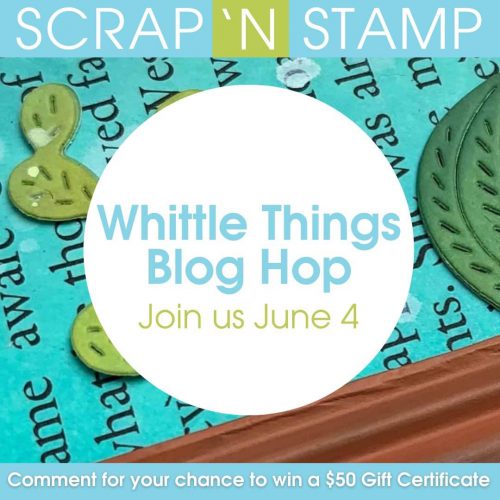 I'm sure you'll have a wish list once you reach the end of the hop… and this weekend you can save 20% on all the Whittles and everything else by Poppystamps!  Happy shopping!
As always, we LOVE reading your comments and hearing what you think about the projects you see during our blog hops!  We'll be randomly selecting one name from all those who leave comments to win a $50 gift certificate!
And now… let me share my creations!
I chose one set of dies to work with this month- the adorable Whittle Cactus Trio.  I've been trying to develop my green thumb as of late, and these seemed like a really fun way to work that into my card making!   I started out inking up some shades of green on Cardstock and then cut the trio out several times.  Since they are so tiny (the biggest of the trio is just 1.4″ tall) I doubled them all up two layers thick with some glue.  Then the ideas started flowing… so I made TWO cards to share with you today!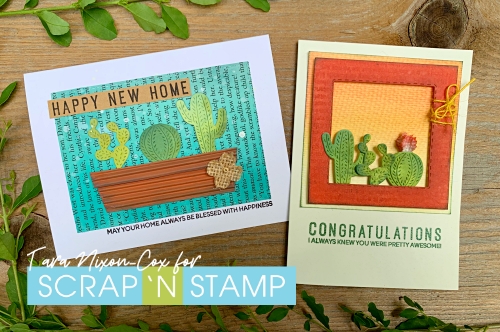 For the first card, I used a scrap of corrugated card stock to create a little planter for my cacti.  I experimented with several colors of Distress Paint, but my final product is primarily Crackling Campfire Distress Paint.  It makes a fabulous terra cotta pot!  Once I had the design, I inked up some book print for my background.  This is a simple ombre mix of Salvaged Patina & Peacock Feathers Distress Ink.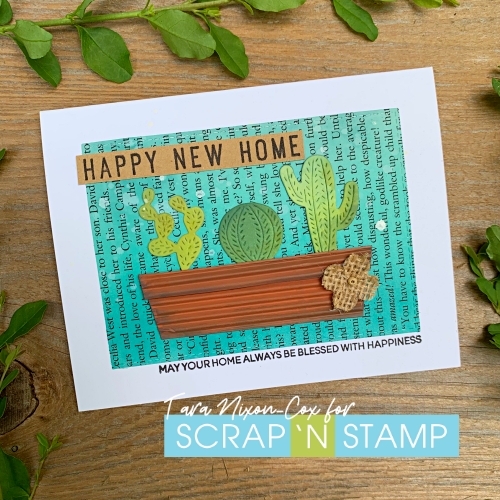 I finished off the card with a cute little burlap flower embellishment and a sentiment from an awesome set by Heffy Doodle called Everyday Sentiment Duos.  It's a super versatile set with a simple font you can dress up or down depending what you pair it with.  I inked the two parts of the 'new home' sentiment separately here, adding the smaller font on my card base & the larger font on Kraft across the top of the card.  Lastly, I splattered a bit of white paint for fun.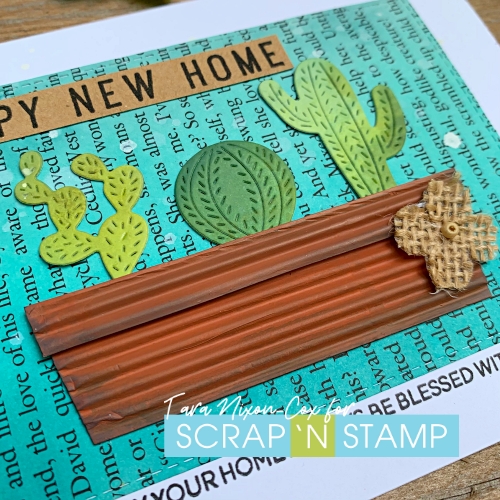 My second card uses the same elements as my first, but I positioned the cactus trio in a frame I made using one of the windows from the slimline die set by Picket Fence Studios.  I experimented with a variety of colors on this as well, finally adding Abandoned Coral Distress Ink to the mix (which is why it looks a bit dark & dirty compared to how vibrant it normally is!).  I stamped over the frame in the same coral ink with the MFT best friends cling background stamp.
Another sentiment from the Sentiment Duos (embossed with Rustic Wilderness Distress Embossing Glaze) seemed like a great compliment to the design.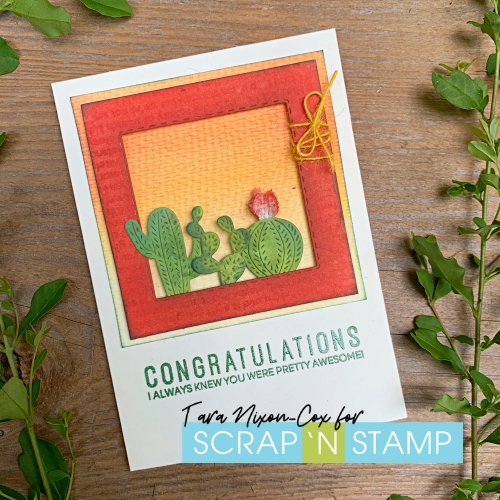 I had a scrap of watercolor paper that I'd painted a wash of yellows & oranges on, so I added a touch of the coral and used it as the base for my frame.  A little bit of yellow twine wrapped around the frame added a bit of fun texture.  I also played around with another burlap blossom, added ink and glue and formed it into a bloom for one of my cacti!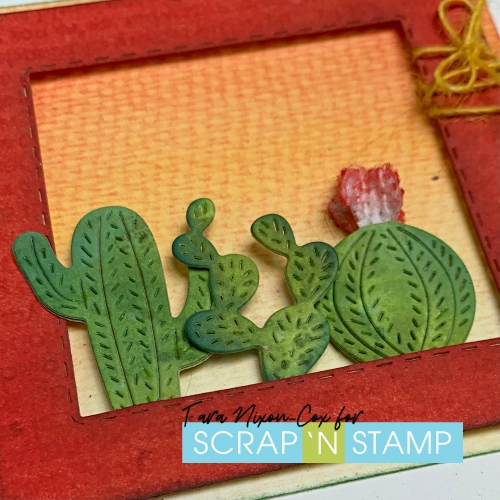 Aren't they some of the cutest little cacti you've ever seen?  And just wait until to see what the girls have done with the Whittle dies they used!  Actually, you don't have to wait… you can hop on over and see Chala, for starters!
Here's the full hop order, with links to the rest of the design team!
Thanks for stopping by and joining our hop- have fun!
Inky hugs,
Tara