And here we are… the last Monday and second last day in August! Today's Random Acts of Cardness prompt is WATER, and I'm sharing a couple of different watery cards with you today. In both, I tried to incorporate water in both theme and technique. Here's my first one: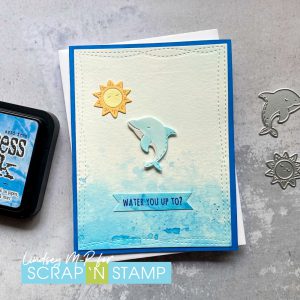 Not over my love of Whittles dies yet! Here I'm using Whittle Dolphin and Whittle Sunshine for my card, along with a sentiment from Whittle Sealife Sentiments. (Possibly the only thing I don't love about Whittles is typing it over and over…) 😂  For the main panel, I did some two-step ink smooshing – first smooshing the bottom third in a puddle of salty ocean distress ink + water, making sure some "splashed" up the panel. Once that was dry, I smooshed the top part in some tumbled glass ink + water – which hardly shows in the photos. I used the same inks, plus some weathered wood, to watercolour my dolphin. The sun is coloured with squeezed lemonade and carved pumpkin. After I die cut my panel, I had enough left over to stamp and emboss the sentiment on a piece and cut it into a banner. For the card base, I swiped the salty ocean ink all around the edges of it to coordinate.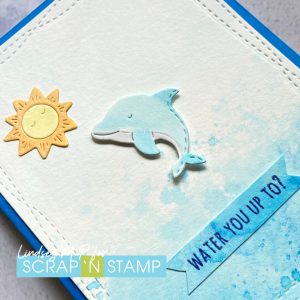 I made a number of smooshed card bases at the same time (sitting outside on our deck, it was lovely!), and used a second one to make another card.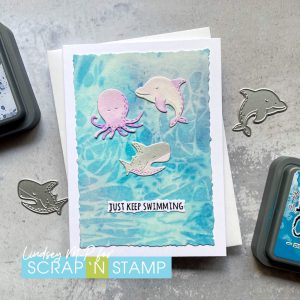 For this one, I played with distress oxide inks and one of my favourite smooshing techniques – using plastic wrap! Keep in mind, I'm a clean and simple cardmaker… this is about as technique-y as I get. 😉  After smooshing my panel in tumbled glass, salty ocean and faded jeans oxides, I crumpled some plastic wrap and pressed it on top before letting it dry. (Plastic wrap, bad, I know; but I do save and reuse it, so there's that.) For a little variety, I used wilted violet (along with weathered wood) to watercolour my dolphin, Whittle Happy Octopus and Whittle Shark. The panel is cut with a deckle die, as is the sentiment, even though there's no die that exact size – I just cut it twice!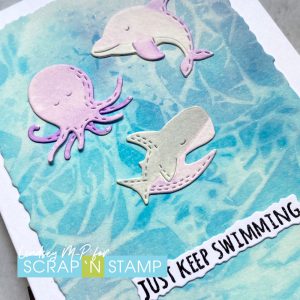 Thanks for checking in today, I hope your week is off to a great start!