Happy Tuesday!  Today I'm sharing a card that is a sweet reminder to *refresh*!  This sweet kitten by Anita Jeram is getting ready to refresh some spring flowers, and maybe taking some time to enjoy the flowers will give you the refresh that you need!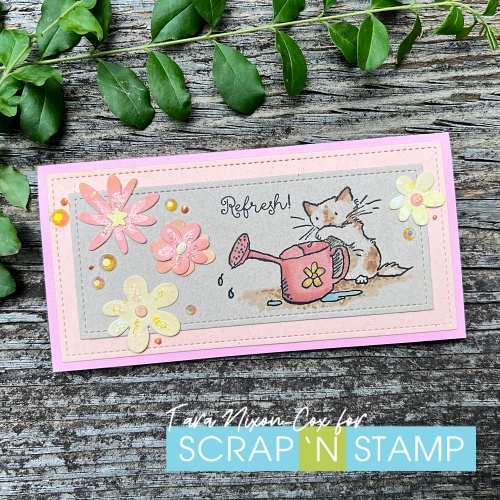 I wanted to work with my new mini slimline stackable dies by Lawn Fawn for this card, so I chose to make a sweet 3×6″ card this time.  I've been playing around with a variety of sizes as mini slims lately, but this one (or something a little bit bigger) may be my new default now that I have these dies!
This little card size is not anything new for me, even though it is kinda a 'trendy new thing' in card making right now!  I have been making cards this size for around 15 years!  Looking back at my personal blog (which I used when I had a store in Williams Lake, BC) I found some to share from classes I taught in 2009.  I saw some as far back as 2007 when I looked a while ago, but the photos were kinda awful 🙂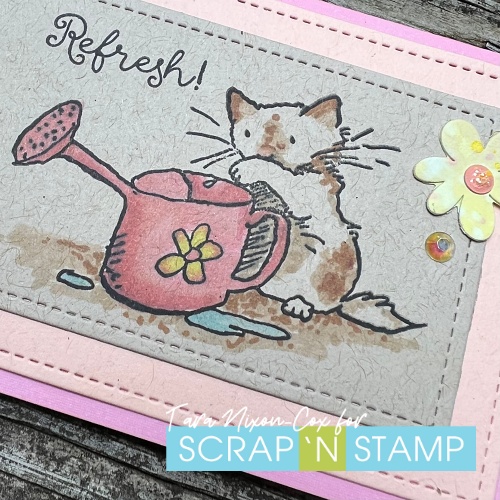 I pulled out my Copics to color this cutie, experimenting with this light Kraft Cardstock as my base.  It was a bit hard to see how the blending would come out as I worked (the ink is much darker when wet than it is on white Cardstock!), but I was pleased with the result and impressed with how well even the light colors show up!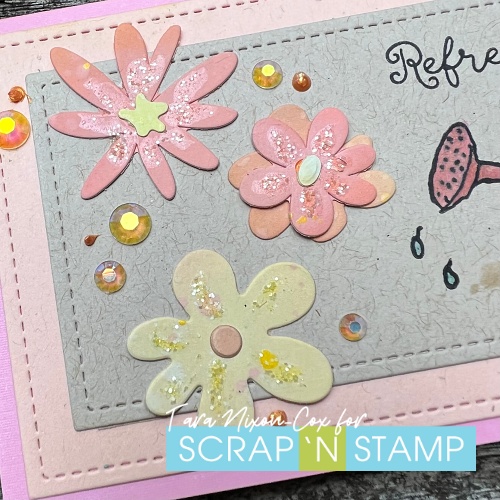 I dug through my dies to find some flowers that would coordinate nicely with the cute one on the watering can… and I found these ones from two different funky floral sets by Tim Holtz.  I cut them from a panel of Cardstock I did some ink blending on with a few shades of Distress Oxide Ink, then added a touch of glitter to the finished flowers.
Finally, I decided on some ombre layers to match the mix of colors and of course a bit of bling to add sparkle!
Hope you like this little cutie and that you take some time to refresh… whatever that means for you!
Inky hugs,
Tara