Happy Tuesday! Today I'm sharing a throwback post with some fun birthday wishes to hopefully inspire you!  Enjoy!  (In case of any technical difficulties, the original post is here.)
---
Happy Tuesday! Today I'm sharing two cards that came from some experimentation with the Retro Repeat die set by Tim Holtz. Since I'm still totally overflowing with inspiration from the girls in our Watercolour Wishes Blog Hop, I've also got some watercolor vibes happening in my first card.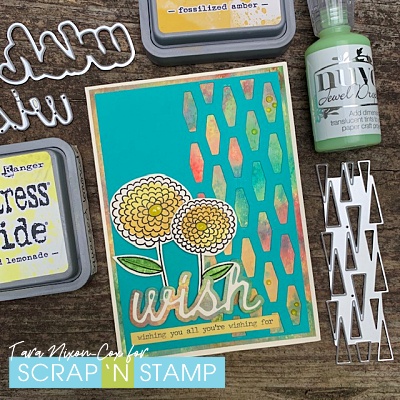 Retro Repeat Dies
I started out just experimenting with the repeat dies to see how they worked. They cut out two rows of design, but the die includes a third which lightly embosses the next row so you can easily align the die to cut as many as you wish. It was pretty simple to work with, I just had to do a bit of trimming to my panel when I was done. (Let's just pretend it was intentional for me to photograph the wrong die alongside my card. LOL. I'm experiencing some significant brain fog these days!)
Details
I decided to layer a colorful watercolor background behind my panel, so cut a piece of watercolor paper to the size I wanted and used a smooshing technique with Distress Ink on my craft sheet. I just kinda used the colors I had sitting there and it ended up being something I wasn't crazy about. Ooops. You can always fix a background though- so I added some shades of yellow Distress Oxide (Squeezed Lemonade & Fossilized Amber) over the background with a blending tool, then used the same colors to smoosh more color onto it. The layer of yellow softened some of the muddy bits and brightened the yellows I already had, as well as increasing the textural look with some oxidization.
I chose some fun sketchy flowers (which have a two-step design like the stamps I used for the blog hop) by MFT to provide a focal point for this card. Using the same shades of yellow & green which were in my background helps tie it all together. I paired the 'wish' die cut from Tim's Shadow Script #2 set with a sentiment sticker from one of the Small Talk sticker pads. (I have a stash of these, I've been collecting for years. They come in handy so often!)
A little tip
As you can see, the die cut opening only reveals part of my background, so I cut the bottom layer of the 'wish' die from the portion that would be hidden! I use this technique a lot when I'm working with layers on a card. If you've got a layer that won't be seen, die cut something out of it! In a case like this, it's a perfect coordinating element. Otherwise, you've got a start for your next project…
My final detail to tie everything together was to ink the Small Talk Sticker with the same yellows I stamped with. A few little Nuvo Jewel Drops finished this card off!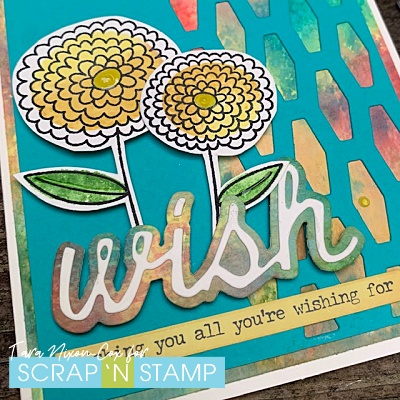 More Retro Repeat
I created a larger die cut with another of the Retro Repeat dies and turned it into another simple card. I came across this snarky sentiment as I was looking for something to go with 'wish' Since it was a larger sticker, I decided I'd keep this one simple.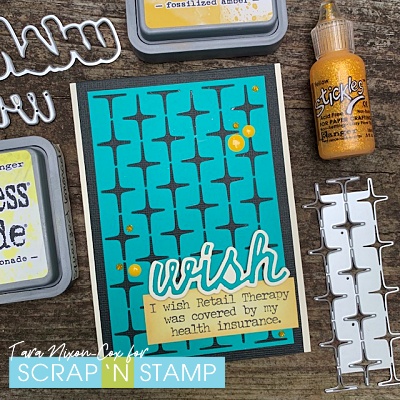 Since my card base & 'wish' layer were cream, I chose to ink my white sticker with yellow again. A few enamel dots and some Stickles glitter glue add a bit more yellow to balance everything out. There's not much fancy about this card… but I think we can all relate to the sentiment!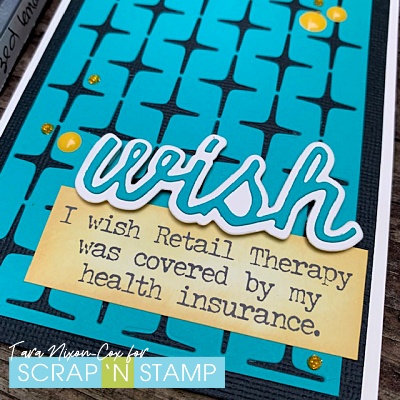 I hope your week is off to a great start, and I hope you get some time to get inky & play along with our Watercolour Wishes Challenge on facebook! Inky hugs, Tara