My Apologies… I started typing this post for Valentine's Day and must have been interrupted, because nearly a week later it was never published!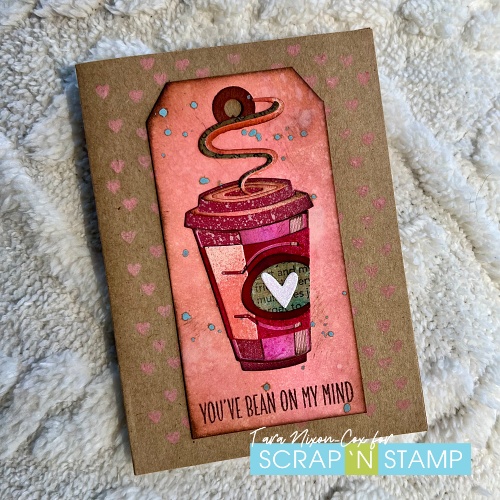 I've used some Tim Holtz dies- Cafe Colorize & Falling Hearts along with a whole lot of papers from my scrap bin in shades of red & pink.  Many of them had a bit of extra Distress Sprays & Distress Oxide Sprays added to give some fun texture!
After assembling the to-go cup, I layered it onto a tag which I inked up with Distress Ink- shades of Saltwater Taffy & Kitsch Flamingo are perfect for a muted blend, with a touch of inky splatter over it to finish things off!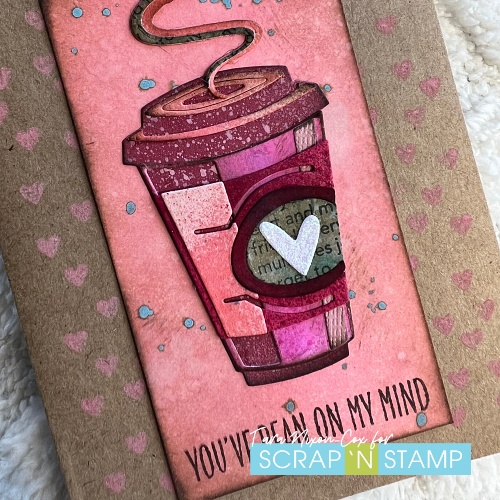 In all it's inkiness, I actually kept this card pretty much CAS, though it has a bit of grunge to it 🙂 I stamped a simple heart background (similar to this one) on the Kraft base and added a sweet sentiment (this is an older one from MFT) on the tag.
On a personal note- I'll be taking a bit of a break from my Tuesday with Tara posts here on SNS, life is looking a bit crazy for the next while!  I'm hoping I'll find some time to make creative things still, so watch for any tid-bits I may share on my Instagram page!   You may still see some fun throwback posts here for the next bit (I always enjoy seeing which cards Raya selects to share!) so perhaps you won't even notice I'm away 😉
Inky hugs,
Tara