Hi, everyone! Welcome back to the SNS Blog! Laurie with you today to share a card made using Elegant Asters and other Gina K Designs goodies new to the Scrap 'N Stamp Store!
My most used card size is an A2 size which is 4.25 X 5.5 inches. I'm not sure why I focus so much on this size as I absolutely LOVE making 4 Bar sized cards which are 3 1/2 X 4 7/8 inches…I always round up to 5 inches! Today, however, I'm going slightly out of my comfort zone by making a slimline card. This measures 3 X 9 inches and fits your standard business sized envelope! I have made only a couple of these as I find it daunting to "fill the space" :).
I started by stamping all the floral images from the Elegant Asters Stamp Set from Gina K Designs. This is a beautiful set and has been on my wishlist for so long. I'm so excited that SNS is now carrying Gina K's line! I used Mixed Media paper because I love the whiteness of it as well as it's not too textured. I also used Versamark Ink for the stamping.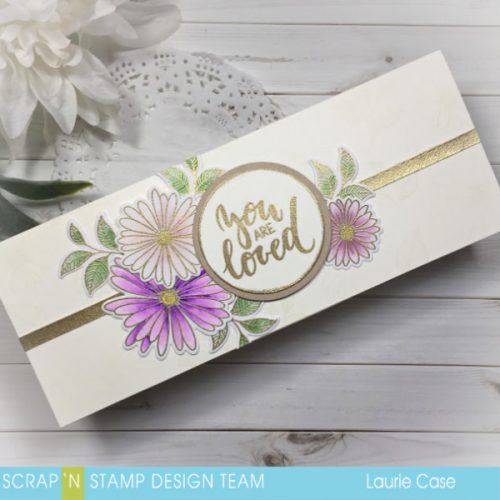 I used Pale Rich Gold Embossing Powder from WOW to heat emboss the images. You've got to check out the tons of EP the shop is carrying! For the simple watercoloring, I used a couple of sets of Nuvo Aqua Pens, Autumn Woodland and Spring Meadow. These pens are so bright not to mention, easy to use!!
After using the co-ordinating Elegant Asters Dies to cut out my florals and leaves, it was time to make the card base. I used an Ivory cardstock. I think Ivory looks stunning with gold!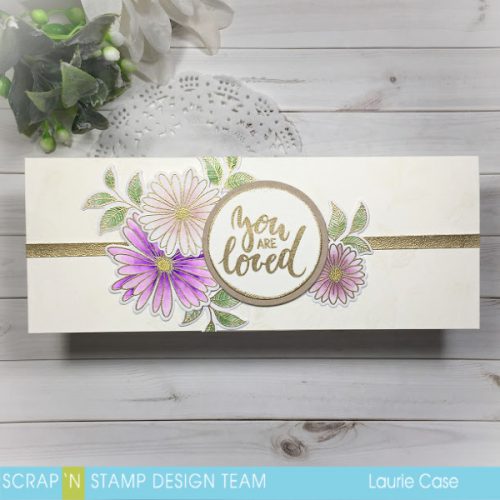 I used a very light shade of beige ink to stamp some of the flowers and leaves directly on the front of the card base. It's really hard to see in the photos. I decided to add a gold strip of cardstock to break up all that ivory in the background. I smooshed my Versamark ink pad onto a scrap of cardstock, add the gold EP and heat set…instant gold cardstock!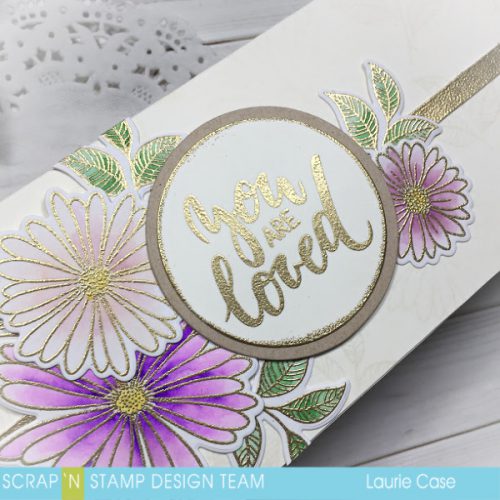 The sentiment was heat embossed onto a die cut ivory circle, then layered onto a larger die cut kraft circle. I used foam adhesive to adhere it. After deciding on an arrangement, I used Nuvo Deluxe Adhesive to adhere all the flowers and leaves.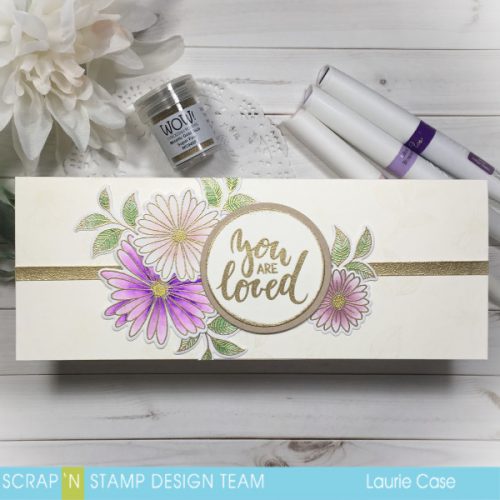 I'm happy with how this card turned out although, I had a hard time photographing it.
I hope you enjoyed my project and get some time to look at all the fab new products that are now available in the SNS store!!
Have a wonderful and see you soon!
Laurie