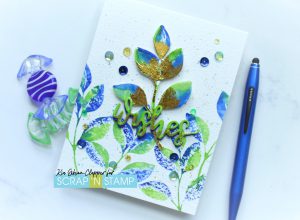 Hello all. Kia here with you today to share my card made for the 30 Day Random Acts of Cardness challenge. Today it is day 18, time for foil.
Brush Stroke Foiling is the full name. There are several ways to do this technique, but for my card I used my fingers, no machines destroyed in the making this card!
I am using Arches watercolour paper for my project today, along with a die from Impression Obsession which I happen to have the coordinating stamp for. You don't need to have the stamp to do this card, having the die works just fine, as you can see from the die cut I have done.
I started by colouring the stamp with the Nuvo Aqua Flow Pens in Fresh Green and Azure Blue, and spritzing with water before stamping. When doing the die leaves, I spritzed with more water to get the colours to blend.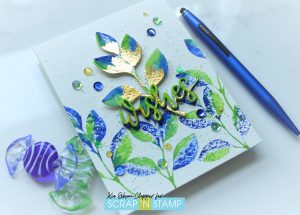 I then die cut two of the sentiments dies from the Arches paper and painted one with the Fresh Green, setting it aside to dry along with the leaves die.
In the meantime using the Gansai Tambi Pearl watercolour set I did splatters with the green, blue and gold paints on my card base.
Using an old paint brush I applied the Mono glue to the leaves die working from the bottom up and making sure I was making lines with the glue. I then laid the deco foil gold side up over the die and rubbed where I had the glue with my forefinger, then peeling the foil away from the leaves. I did the same with the wishes die, except I used my finger to apply the glue in random areas, then burnished.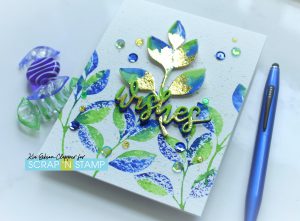 I cut up some foam squares and added them to the back of the leaves to attach to the card base, doing the same with the sentiment die. I then added some gems to finish my card.
I hope you have enjoyed today's card and wish to thank you for visiting us here at Scrap'n Stamp.
Following are Affiliate links for the products that I have used for this card, at no extra cost to you.