I've been busy creating and today I have THREE things to share with you!  I tend to be a last minute crafter, and figure my Christmas projects won't exactly thrill you in the new year… so the sooner the better, right?  I was looking for inspiration and thought I'd try a version of Tim Holtz's December tag, well I got as far as the burlap background (love it!) and was distracted and off on my way making something completely different.  I didn't have any of his sticky back burlap at home, but I do have some cardstock backed burlap, which was great for die cutting.  Here's what I made: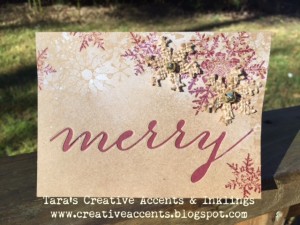 I used the negative of a Memory Box 'merry' die cut from a kraft card front for this card, mounting some cardstock behind the open card front.  I misted white Distress Stain Spray through a snowflake stencil (also by Memory Box- so pretty & delicate!) and stamped some snowflakes (Tim Holtz) in Aged Mahogany Distress Ink across the card.  I used some burlap snowflakes I die cut to finish it off, attached with these adorable jingle bell brads I found at a local craft store!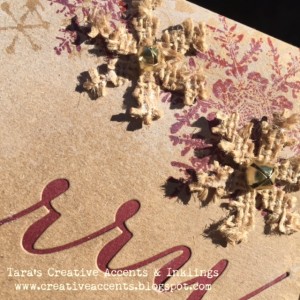 I love how this card turned out both elegant and rustic!
Next is a more modern card, using the word that I cut out from the first card.  I decided to go with a clean, white background but added a few stenciled details along one edge.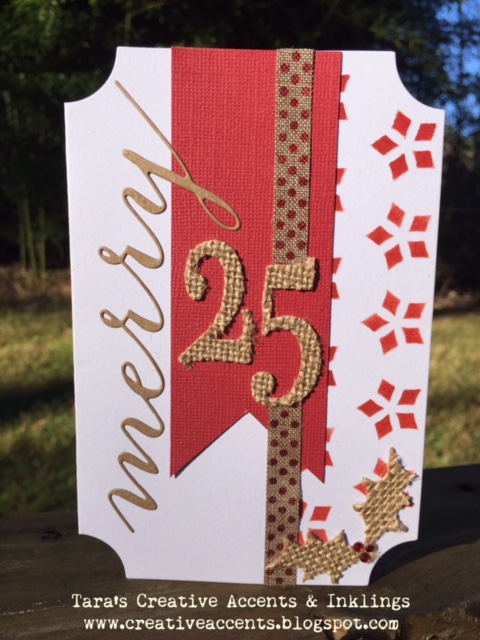 This card is very simple, but the texture from the burlap adds so much!  I also love the bit of bling added as my holly berries and how it matches the metallic dots on this ribbon I found 🙂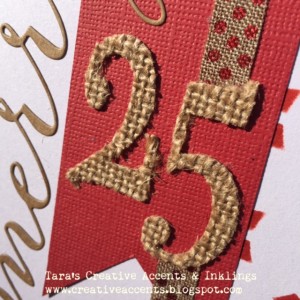 Last up is a small 3D project I wanted to do for my mantle.  I found these paper letters and knew I wanted to paint them for my holiday display… the burlap was just the thing for them.  They've all been painted simply in a copper metallic paint and embellished with burlap shapes (all of these are 'minis' by Tim Holtz, if you were wondering!).  Simple and pretty and a nice addition to my display!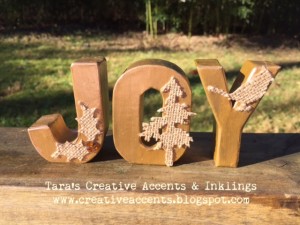 So that's a few of my burlap beauties this week 🙂  I've still got a few more shapes on my table that are waiting to be added to new creations… hope it gives you a little inspiration!
Have a very creative day!
Inky hugs,
Tara