Happy Tuesday!  Today's card is celebrating HUGS… something most of us are missing right now, so we're happy to be sending some paper ones!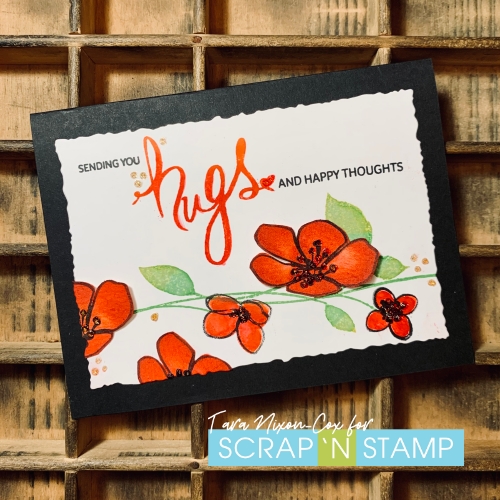 I challenged myself to use only images from a single stamp set, Hugs & Wildflowers by Gina K Designs. I've had this set for a while, but have only used it a handful of times. It's quite a large set with a lot of images and words to use, so there are a lot of options!  I saw the large 'stem' stamp as a border design for this card, so I stamped it in greens and added some leaves.  Several flowers in this set are two step images, with a solid design you can stamp in color as well as an outline you can stamp over it.
I stamped several wildflowers directly onto my background and then added the largest as a dimensional element with foam squares.  The two partial images on the left side of the card were added as an afterthought, as I just wasn't pleased with the balance of the layout and the balance of red on my card.  I love the loopy script of the 'hugs' word, but the size made it a bit tricky to fit with my design!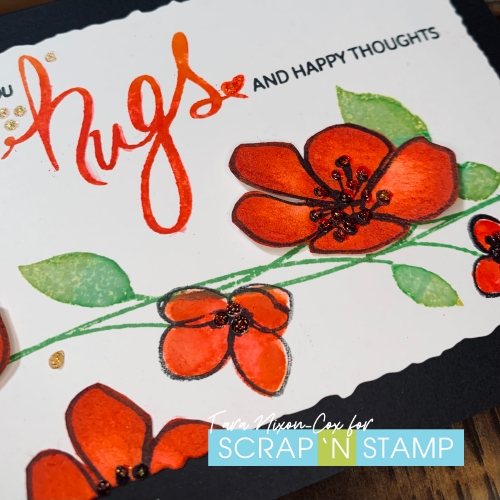 All the colors here are Distress Ink, I played with a variety of shades of red & green until I was happy with the mix.  You definitely can see some Crackling Campfire playing with the other colors on this card!   (Ask me if I'm excited about the announcement of a new Distress Color Bundle being released on February 1!  Yes, yes, I am!)
I cut the entire design on white Cardstock out with one of Tim Holtz's Stacked Deckle dies.  I love the subtle design it adds with a bold black border.   As a finishing touch, I added a bit of Nuvo Glitter drops in Honey Gold to the flower centers and a few other spots around the card, you can never go wrong with a little sparkle!
Hope you like it and have someone you can hug today 🙂
Inky hugs,
Tara