I hope you had a fang-tastic time checking out all the projects that we shared during our Freaky Friday Blog Hop last week!  We all had fun with our projects and I know that I was definitely inspired by the diversity and creativity the girls showed with the Tim Holtz Paper Dolls 'Ancestors'  Wow!  We totally appreciate your comments and a winner has been randomly selected from comments on each of the blogs to win a $25 gift certificate to the online store!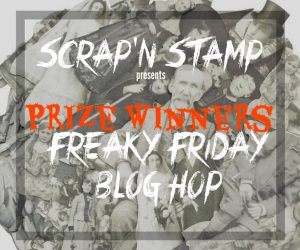 8 blogs… 8 winners- in no particular order, here they are!
Congrats to each of you!  Please send an email to info@scrapnstamp.ca (or contact us via this form) to get your prize!
Joanne Scott
"On a Good Day" Germaine
Franca
Christi Steinbeck
Katie Baird
Carrie
Cathy Potosky
Lynda F
Woohoo!  Happy Shopping, ladies!  Thanks for the lovely comments… I'll see you back here on Tuesday!
Inky hugs,
Tara
Tags: winners