Happy Tuesday!
I hope you had a great weekend and maybe saw some sun (though I know there were some crazy snow storms happening in Western Canada! Yikes!) As for me, I am channeling spring… bring it on! I'm ready for May flowers everywhere and actually had to hold back on today's card to not use flowers… I saw a sketch I wanted to use over on the MFT blog (today is the last day to play along, but if you like the sketch you can still use it!) and had a floral idea in my head for our upcoming blog hop coming up Friday (be sure to check back then!) BUT I wanted to come up with something fun to share with you today- I hope you like where I went with it 🙂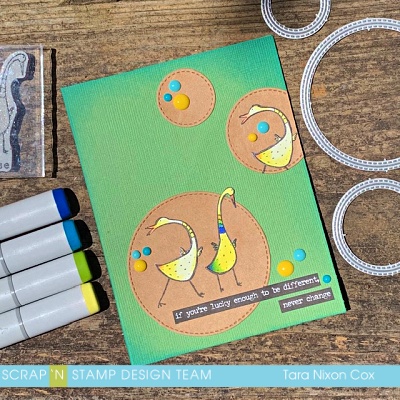 I wanted to create something that could be gender-neutral or masculine, so I reached for Tim Holtz's Funny Farm stamps again- it's kinda funny, but some of my fave stamps on that set are ones I haven't inked up yet, like this awesome 'silly goose' stamp. It took me a little bit to figure out exactly where I was going with this card, but it all came together when I paired it with a sticker from Tim's Small Talk pack (this has been in my stash for YEARS).
I chose to stamp the geese so the one that was going to be 'different' stuck out from the circle. They were stamped in black on the die cut circles (love these inside & out stitched circles by MFT) and again on white cardstock in Black Memento Ink. I colored the white images with Copic Markers. Super simple coloring, with a splash of color added to one 😉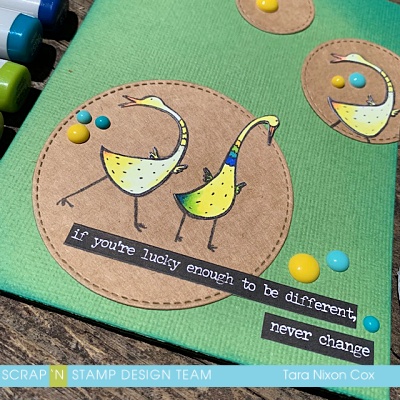 A few enamel dots from my stash, and a bit of inky blue shading along the edges of the green card stock finished off this fun & simple card! Hope you like it! Using a sketch as my design template really made this card come together quick & easy, too. So glad I found that MFT features sketches on Wednesdays… I'll definitely be watching for more!
Inky hugs,
Tara
Tags: tim holtz, Tuesday with Tara