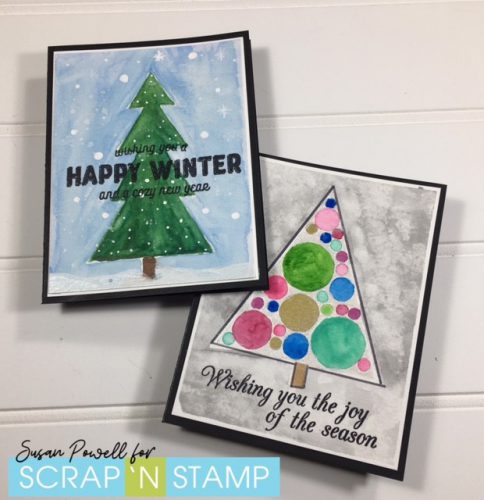 Hi Everyone!
It's Susan with today's prompt for the Random Act of Cardness – shapes.
I had a few different ideas for this but in the end I decided to do something quick and easy. That seems to be my go-to right now so that's what I did.
I decided to use shapes to make a couple of Holiday cards. If you're still sending out cards then these could work for you because they don't focus on Christmas, instead they are about the whole season.
If you're playing along with us be sure to share over on the Scrap'n Stamp Facebook page.
I've got lots of pictures so lets get started.
Here is the first card.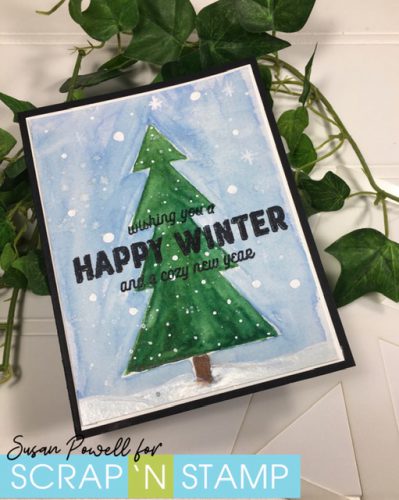 I started by securing a piece of watercolor paper to a board and drawing a very faint pencil line down the center of the paper. Then using the MFT's Triangle stencil I started drawing out triangles starting with the largest at the bottom and working my way up the page with smaller triangles being sure to line the top point of each one to the center line.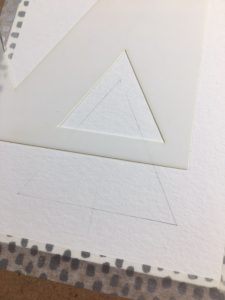 Here you can see all the triangles.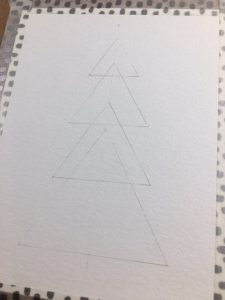 Be sure to erase all the lines in the middle because once you start adding color they are not always easy to get rid of and you probably don't want to see them in your finished product.
As I'm typing this up I'm thinking this tree would look cute if I kept the top points of the triangles all lined up but made each triangle a little wonky. I'll have to give that a try and maybe even do some non-traditional colors.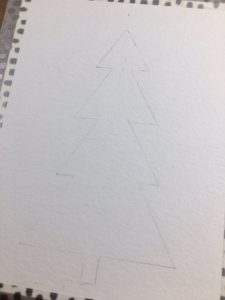 I'm not going to talk about the watercoloring because really I kept it so simple using just a couple shades of green and mixing it around on the cardstock. No fancy techniques or skills used here.  The sky is a wash of light blue. I splattered on some watered down white paint and then used a white paint pen to add some bigger snow. I decided to add the sentiment right across the middle.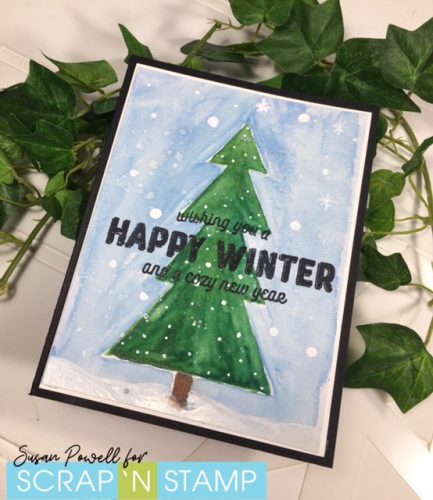 This next card is also a tree but made using the MFT's Circle Stencil.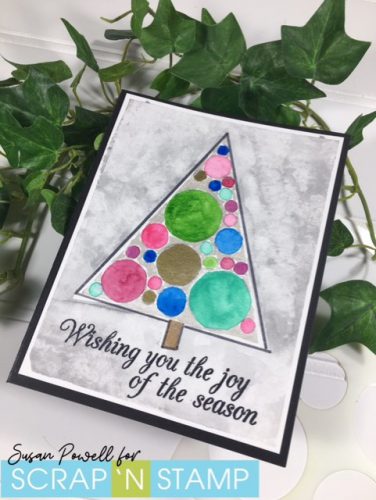 I started with another piece of watercolor cardstock taped to a board. This helps to keep the cardstock flatter when it's finished and it also gives a nice white edge to the piece. I drew a large triangle very lightly with a pencil and then went about filling it with circles using the stencil. You could definitely free hand all of this for a more organic look but I'm really not good at drawing circles so I used the stencil.
I painted them in using a variety of non-traditional colors and then I used a silver to fill in all the gaps. This next picture shows it a little better. I finished the card by painting in a tree trunk and then adding the background. I started with a light grey but it wasn't light enough so I dabbed some off with a paper towel and I really liked the mottled look so I filled in the whole background that way. It was a happy accident. I stamped the sentiment on the bottom this time instead of adding snow. I felt with all the circles in the tree that the splatters would just make it look really busy.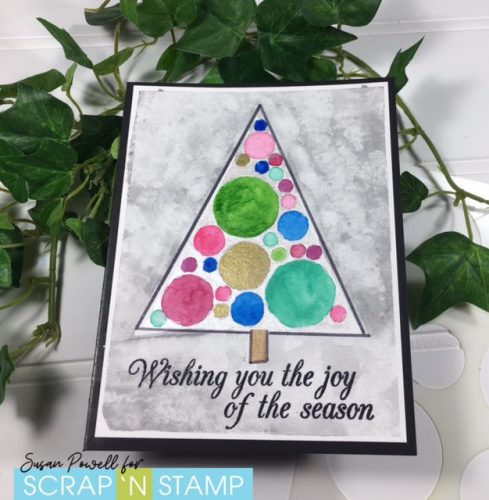 You could make a tree out of lots of small triangles or even rectangles and squares. Ohhhh that gives me an idea. Back to my craft room I go lol.
I used a MISTI to stamp my sentiments. If you stamp directly onto watercolor cardstock a stamp-positioning tool is a must. Doesn't have to be a MISTI but I definitely recommend some kind of tool as it always takes stamping it a few times to get a good image because the paper is not smooth.
I used my Kuretake watercolors for these cards but you could do these with any paints at all. This would be fun to let your kids do too – they could use dollar store watercolors (if you don't want them to use yours) and they could go crazy with stencils or drawing their own scenes to paint. Could be a fun activity for thank you cards to do over the Christmas break.
I hope you are all having a wonderful holiday season. I know it is not what we're all used to and it's difficult at times but I do hope you're enjoying it.
I wanted to also let you know about a big sale over at the Scrap'n Stamp Store. Up to 50 % OFF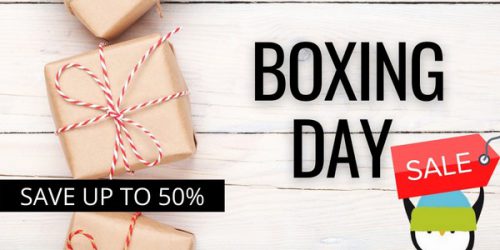 And if you like a bit of mystery and surprise why not treat yourself to one of these boxes.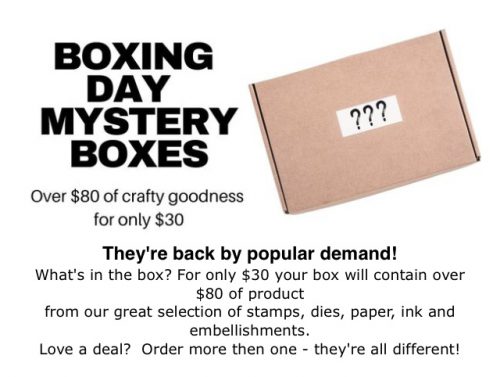 See you all in 2021!
I want to wish you all the best for a HEALTHY and HAPPY NEW YEAR!!
Happy Stampin'
and thanks so much for visiting!
Stay safe everyone!!
Susan
Shopping list:
Below are links to all the goodies I used, just click on the icon to be taken to where you can purchase the product.
If you use my affiliate links when shopping there is no additional cost to you, I want to say thank you and that I appreciate it and you very much.