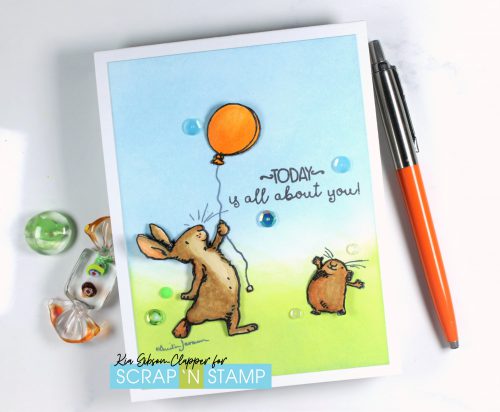 Hello crafters, Kia here with you today for Day 24 of the Random Act of Cardness challenges. My challenge is Paper piecing or as I have done, 3-D paper piecing.
For my card today I am using Colorado Craft Company Birthday Wishing. I used the adorable bunny holding a balloon, along with a little critter. The balloon has 3 pieces, the bunny has 5 and the little critter has 3. I build them up by stamping several of each image so I can cut out a foot, the arms, the ears, the hands etc.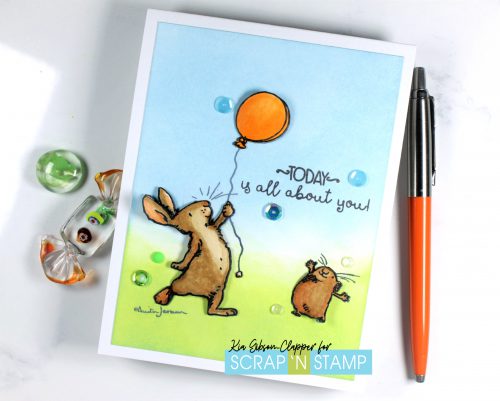 After I stamped the pieces I coloured them with Copic markers, all the same. I then fussy cut out the pieces I wanted to use and styled them with my stylist set then set them aside. Using Hammermill card I sponged on Tumbled Glass and Twisted Citron Oxide inks. I did not want a 3rd colour added to my background so I blended out toward the meeting spot. Once the piece was dry I attached it to my card base.
I put the card in my stamp positioner and stamped the images on the card that I was using along with the sentiment. These do not get coloured. I then proceeded to add the tiny pieces building up to the top layer, doing the same for the critter and the balloon.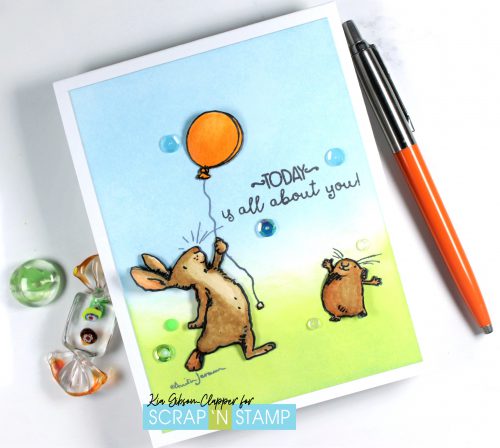 To finish off my card I added a scattering of sequins, adding a 3-D piece in the bunch.
This was a nice change for me, and I hope you will give this technique a try. Thank you for joining us today.
Following are Affiliate links to the store for the products that I have used for this card, at no extra cost to you.