Happy Tuesday, and Happy Fall Y'all! I hope the autumn season (short as it may be wherever you live!) is off to a colourful start for you. And if you're in one of the places that recently had the colours replaced with white. Sorry… maybe if you just bundle up inside for a bit and look at some pretty cards, it'll help!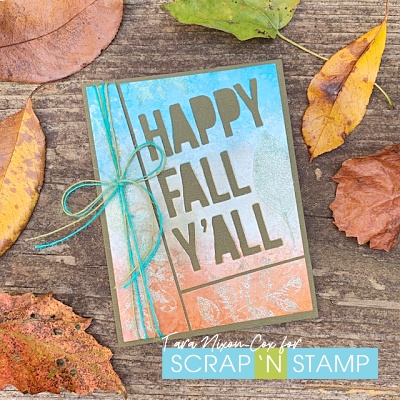 I was inspired by a card made by our design team member, Nancy E. and the bold sentiment die she used. I don't have anything like that of my own, but I do have alphabet dies and washi tape! The alphanumeric dies by Tim Holtz (the set I used is out of stock, but I almost used this one!) are awesome because there are multiples of the letters you use the most. By lining up my words and putting washi tape on the back of the dies, they stayed straight while I played around with my layout.
I actually used a pre-inked background from a previous creativity session for this card. This one features a fun blend with Alcohol Pearls Set #4. When I picked out the set, I thought it'd be great for masculine cards. It's also fabulous for autumn!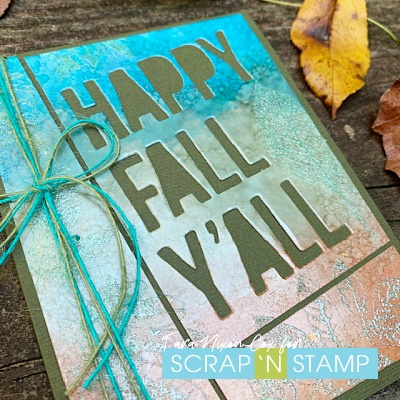 Once my layout was figured out, I made some geometric cuts (inspired by some cards I've seen recently on Instagram & Pinterest). Next I arranged and die cut my sentiment. After adding some stamped leaves (Nature's Wonder by Tim Holtz) around the sentiment, I decided to emboss them with some Avocado Wow Embossing Powder. It has a pearly pale green finish that is slightly translucent, allowing the blue ink I used to show through a bit. The combination of the two pearly finishes is quite pretty!
There's another plus of using these alpha dies for a card that uses the negative space. I've got the cut-outs for a second card ready to go! To finish this card, I chose a dark olive green base. The neutral color of the Alcohol Pearls trio isn't a green. However, I felt the combination picked up some green tones in it. I highlighted the green with the embossing Powder choice and the addition of some green & teal twine.
I hope you like it, and once again- Happy Fall Y'all!
Inky hugs,
Tara
Tags: alcohol pearl ink, ranger, Sizzix, tim holtz, Tuesday with Tara