Happy Tuesday!  I'm back, after a bit of a break, to share a Tuesday with Tara project with you!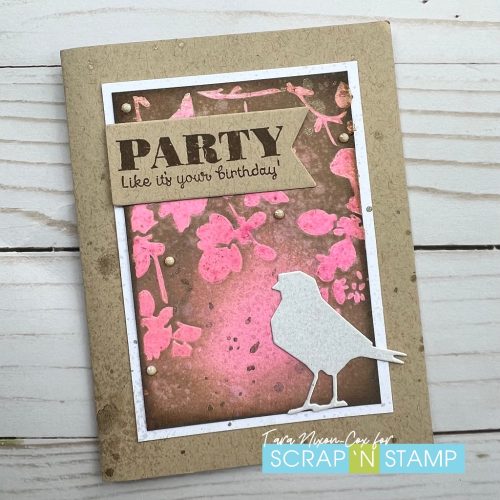 I created this card with the intent of sharing it for the April Inspiration Hop over at SNS, but I didn't feel like it fit the vibe of the hop with the kit being featured!  The card I shared (linked in the post previous to this) does, however, use the same sentiment with a completely different feel!  I hope you like them both 🙂
I've used: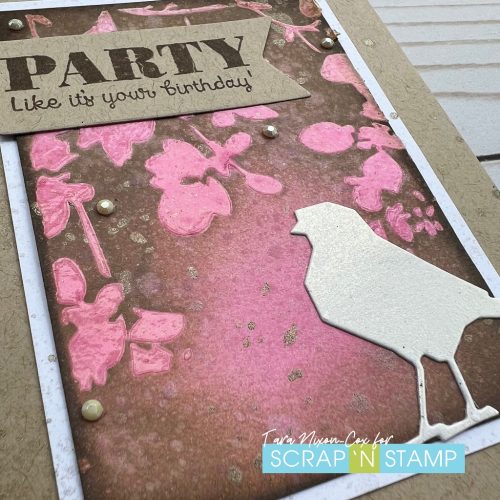 I started with a panel inked with both shades of pink and a touch of brown at the edges.  I then applied the texture paste through the stencil over the pink and set it aside to dry.  Once dry (I left it overnight, just in case!) I started to ink over it and wiped with a damp rag to reveal the shiny pink blossoms!
I assembled the base & layers of the card, then spritzed with the mica spray & again wiped off the blossoms for a bit of extra shimmer & grunge (why not have both!?).  The bird, bling & sentiment were all added as finishing touches once everything was dry to touch.
The splatters of shimmer remind me of the rainy spring days we've been having here in NC!  I'm looking forward to enjoying a bit of sunshine finally!
Inky hugs,
Tara