Happy Tuesday!
I wasn't sure I was going to get a Valentine made for my hubby this year… I just got over the flu and was still working on getting day to day stuff done!  In looking through some new stamps I hadn't inked up yet, I noticed the '"You're my Type" sentiment in this Concord & 9th Type Talk set and I knew I could make it work!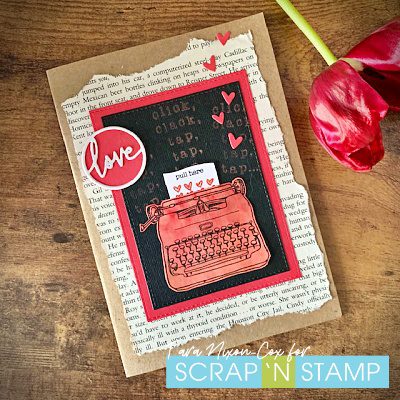 (The bonus of a last minute card for your valentine… you can use the flowers he gives you in your card photo. LOL)
I kept my card simple, knowing that the fun interactive element was going to steal the show!  I stamped the typewriter image on a scrap of inked up paper that was discarded from a previous project.  The typewriter paper was made from another scrap I'd used for a die cut.  I don't have the coordinating dies for this set, but they are on my wish list!  I referred to photos of them as I figured out the interactive element.  I tried to cut the t-shape from my scrap, but in the end I simply adhered a strip to the bottom after sliding it through the slot I created with an xacto knife.  (There's a die for the slot in the set too!) I remembered to take a photo at the last minute before adhering the letters of my die cut panels together!
Here's a closer look at the interactive element on my finished card: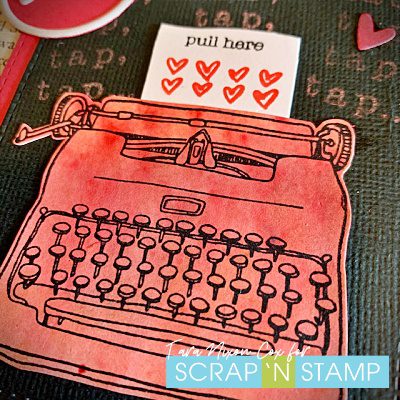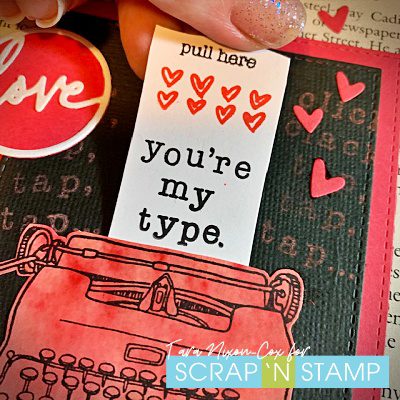 This card came together really quickly, and I finished it up by adding some die cuts leftover from other projects, including the fun love circle from a Christmas set by Tim Holtz!  Distress Oxide ink was a perfect way to add a bit of detail to my black panel and a page of torn book paper seemed like an appropriate layer to add, allowing me to make this a 5×7 card instead of standard A2 size.
I'm working on a couple more cards with this Type Talk set that I'll share with you later- there's so many great pieces the options are endless!
Inky hugs,
Tara