Happy Tuesday!   Today I'm sharing some cards for Day 21 of our "Random Acts of CARDNESS" Challenge which is KRAFT.  To be fair, it's kinda  default of mine (I think the last 4 cards I've shared have included kraft card stock), but I'm sure for some of y'all it's a challenge!  Today I doubled the challenge for myself and used the Evolution stamp set by Tim Holtz, which isn't my typical style.  This set includes two large collage style masculine images that turned out to be pretty easy to work with!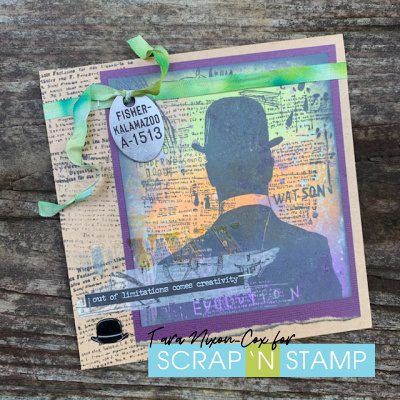 I've been in the process of moving my studio space and while I have a work space moved to one room most of my supplies are still in another… I decided to make this project easier on my self and use some pre-inked backgrounds I found while I was making the move. This first card features a fun multi colored background done with Distress Oxide Inks.  I simply stamped over it in black and did a bit  more blending around the edges with Black Soot Distress Oxide Ink.  I chose to use the deepest shade in the background, purple, as a layer behind my image to mount on a 5.5″ square Kraft card base.  I stamped a text stamp by Finnabair along the edge of the card in black as well.  I deliberately stamped crooked to mimic the text in the main image.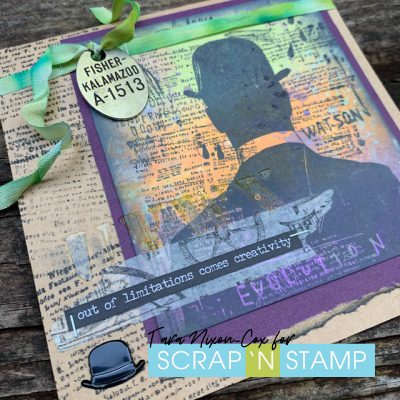 I wasn't really sure where to go from there…so I set the card aside for a bit and started on the next one, which is similarly stamped on an inked tag.  Once I had both images attached to base cards I added some ribbon, which I adhered with my tiny attacher- Tim's little staple tool.  I wanted some extra stability on my ribbon so I could hang a large metal embellishment (one of Tim's adornments from my stash).  I then remembered some little brads that were a perfect fit- a hat for this card and a mustache for the other.  A chit chat sticker didn't seem to be enough on it's own, so I layered it over washi tape and added a couple more staples.  Once I finished everything I added a touch of extra texture with clear paste through Tim's CARGO font stencil.  Once everything was dry, I smeared a bit of Distress Oxide Ink with my fingers over the stenciled letters to help them stand out a bit.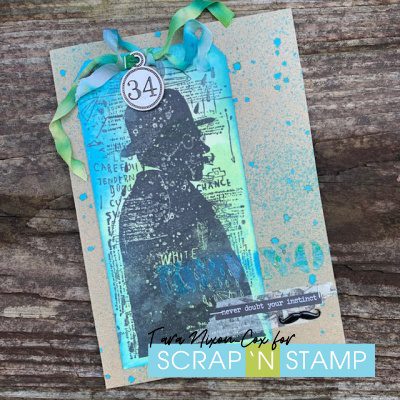 This second card is on a 5×7 Kraft base which I had previously sprayed with some Distress Oxide Spray.  Since my tag was inked in greens, I tied it together with the background by inking my edges with Salty Ocean Distress Oxide Ink.   My image is a bit splotchy here because I'd stamped it on a background that was still wet, but I decided I still liked the look and I'd just go with it!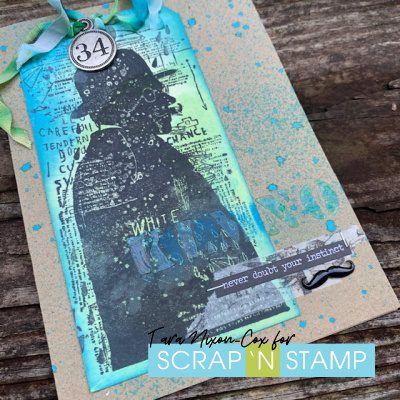 All in all, I'm pretty pleased with how these came out.  It's great to have some masculine cards ready to go and these images are perfect for that!  I hope you like them too- and I can't wait to see what you share with our Facebook group featuring kraft today!
Inky hugs,
Tara
Tags: Distress Oxide, masculine, tim holtz, tuesday with