Happy Tuesday!   Today's card is some simple krafty fun I shared with viewers of my Crafty Facebook Live on Saturday!  I showed the card I made for our Tongue-in-cheek blog hop and then made this similar card with the same stamp set by Sunny Studio, called Tool Time.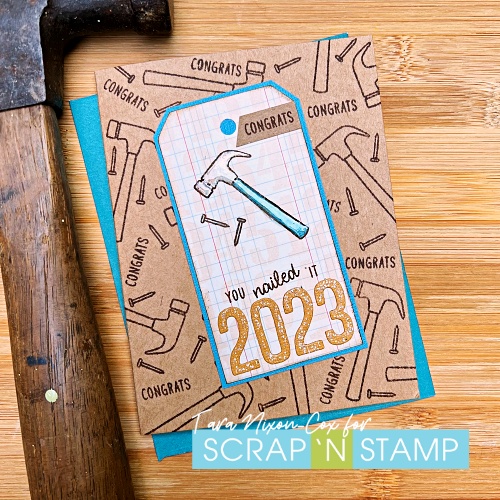 This little stamp set is perfect for guy cards with some clever puns, and the simple designs are fabulous for creating an easy background with repeat stamping.  For this card, I stamped on a Kraft card base in Ground Espresso Distress Ink.  I started with the largest image- the hammer, then filled in the empty spaces with "congrats" and the nail image.  The trick to these backgrounds is to rotate your designs so they fill in the space.  If you know a large part of the background will be covered up, as with the tag on this card, you can leave that part empty and focus on what the edges of your space will look like.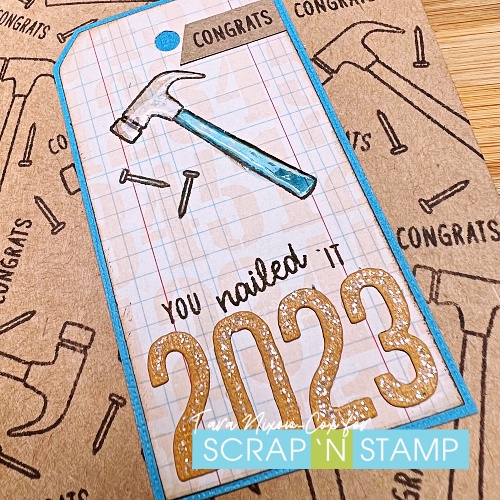 I used a pre-printed tag for this, to keep things simple and add some subtle texture.  You could absolutely create a subtle background yourself- and this might actually be a fun project to do just to have some on hand!  I played around with the layout of the text for my tag and added some die cut numbers I had from last week's project, which worked out perfect since I used this as a graduation card as well!  I added some quick color with Distress Watercolor Pencils & finished off the tag with a bit of Glossy Accents on the hammer and some Rock Candy stickles (the stickles are discontinued, but you can still buy the mica glitter) on the numbers!
It's simple fun, perfect for any guy who needs congratulating!  I hope you like it and I hope you enjoyed the live as well!  If you haven't already, please check out our current HOP and drop us some comments to let us know you did (and have a chance to win a prize)!
Inky hugs,
Tara