Happy Tuesday!  Today's card its designed for those January and December birthdays… the ones that are so close to Christmas that they sometimes get overlooked!  They are a perfect opportunity to use the wintery stamps in your collection and let them know how special they really are.  I actually purchased this 'Snowman Joy' die by Penny Black specifically for birthday cards, though it would definitely work for Christmas too!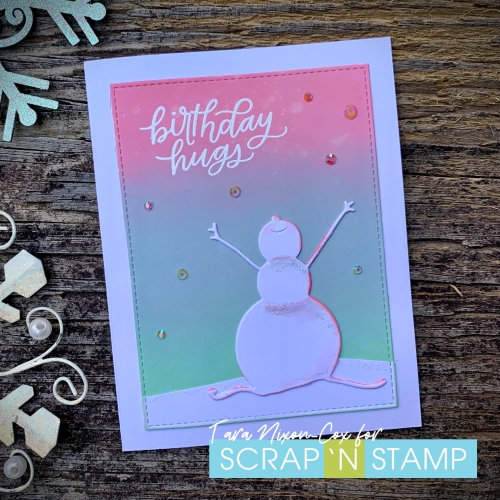 I wanted to highlight the simple white snowman on a fun ombre background of blended Distress Oxide Inks.  I chose soft pastels again, blending into the bright pink of kitsch flamingo on top!  I set this blend aside to dry overnight before die cutting with a stitched frame and then white embossed a birthday sentiment from MFT.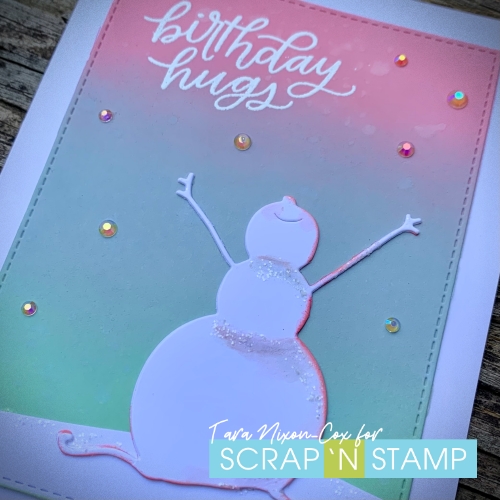 I muddied things up a little bit when I added some shading (oops… that's what I get for having a dirty brush!) so I added a bit of glitter to help 🙂  A few scattered crystals added to the sparkle and finished off this simple card.  Sometimes simple is best, especially when you have a cute die like this one to be your focal point!  I think it'll bring a smile to the recipient, don't you?
Inky hugs,
Tara