Happy Tuesday!  Today's Challenge word is SPRITZ so I took it upon myself to use Distress Spray Stains as my ink medium today!  I also took inspiration from the teasers for the new Distress Crayon Release and limited my palette to the three newest Distress Colors- Prize Ribbon, Salvaged Patina & Kitsch Flamingo.  They're really pretty together, and while I love the combo they are not in my 'comfort zone' together, so I really struggled to get a finished card together (I made a bunch of backgrounds though, so you'll see them pop up here & there!)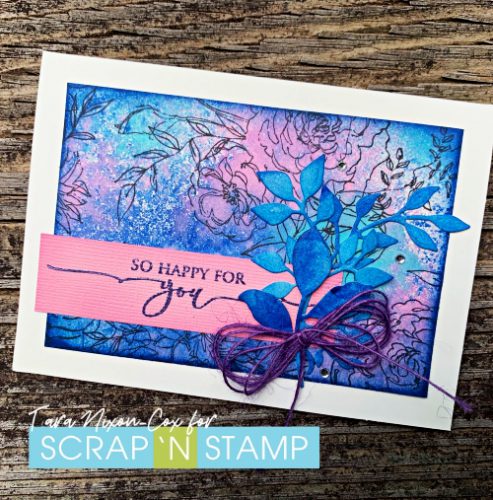 For this background, I used the Distress Mixed Media Heavystock and using the stains it was a favorite of mine for the way the inks were able to mix & blend together in some spots and still show spray/splatter marks on other spots.    I stamped first the Tim Holtz Floral Outline Stamps over the Cardstock, then after it was dry I spritzed the three colors over it.  I did not add water to my background, but I did go back over it with some pink (kitsch flamingo) as it was the lightest color and the other colors were definitely dominant.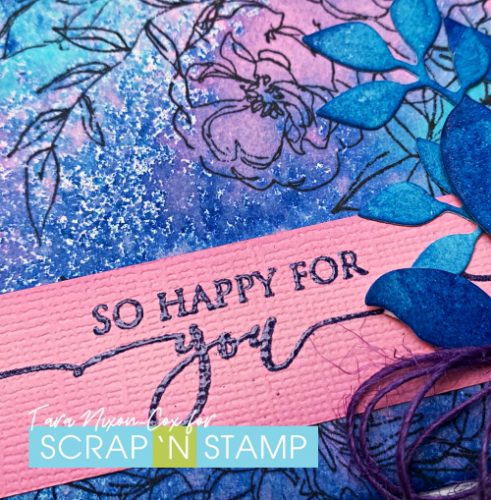 I really wanted to keep this card simple, and I chose a pretty sentiment from Gina K Designs to go with it.  I struggled a lot with what to add and finally die cut a few different leaves and layered them on the card. I added a few touches of bling and a twine bow for some texture.
I really struggle with designing cards in certain colors and this was an example of that for me!  I do love the colors together with these stamps though, and you'll see them again soon!
Inky hugs,
Tara