Hi Everyone! It's Susan and today I thought we'd play with watercolor pencils. I loved to color as a kid and that hasn't changed and probably never will. I find it very relaxing and nowadays there's so much more than my crayola pencils and wax crayons to play with that I had when I was a kid. I remember the first time I used watercolor pencils I was really intimidated but actually it's not that hard. Now, let me be clear, I am NOT an expert but I am learning and thought I would share what I've learned with you. The card I'm sharing today was quite simple to make.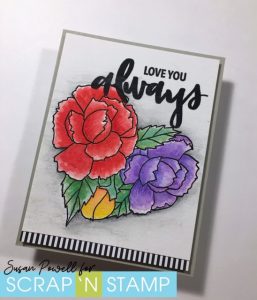 I started by stamping the floral image onto some watercolor paper. I recommend using a stamp positioning tool for this because you'll probably need to stamp the image a few times as the watercolor paper is not smooth.  Plus it's great for re-stamping your image after you're done coloring which helps to crisp up the lines after you've colored.
Add a light layer of color with your pencil crayon to start. I used Prismacolor pencils and I love them. I know there are others on the market but this is what I have.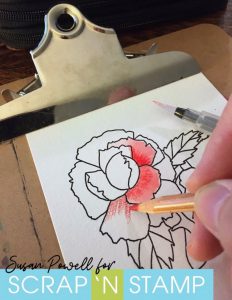 Use a paint brush or water brush to pull the color out to the rest of the petal. I used a water brush – it's a paint brush with a barrel that you fill with water and squeeze gently while painting. I find them very easy to control, great for taking projects on the go and with out a container of water on my desk I'm less likely to knock it over.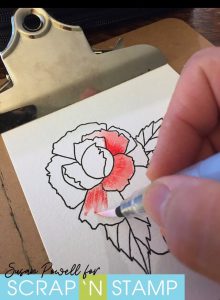 Here's a look at a few of the petals with only one layer of color. After it dries I like to go back and add more layers – darkening it at the base of each petal for some dimension. I also leave a little white space at the tip of the petals for some highlights.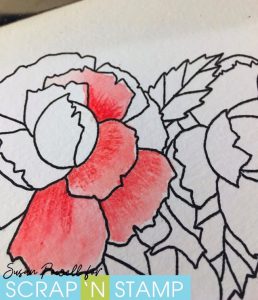 Next I added some color to the leaves in the same manner using a couple shades of green and one blue. I decided on purple for the other large flower and yellow for the bud.
One way I like to finish off the coloring is to grab some color by taking the water brush directly to the pencil crayon. I do this to add in some darker shadows. For the purple flower I used some blue to add some depth and for the yellow bud I used an orange pencil.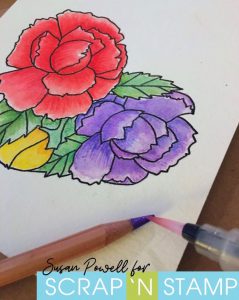 I used a grey pencil crayon to add most of the shadow around the flower. I got in close in a few spots with a black pencil crayon to add some more depth.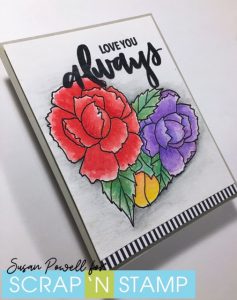 I finished the card with a sentiment, again using the stamp positioning tool so I could stamp it a few times and get solid coverage. I added a little strip of patterned paper for some fun and then added it to a card base with some craft foam.
If you're new to water coloring I highly recommend florals. You can work on each petal individually which makes it less intimidating. I used the You Are Here stamp set from Concord & 9th but check your stash you may have a floral stamp set that will work.
Happy Stampin'
and thanks so much for visiting!
Stay safe everyone!!
Susan
Shopping list:
Below are links to all the goodies I used, just click on the icon to be taken to where you can purchase the product. If you use my affiliate links when shopping there is no additional cost to you, I want to say thank you and that I appreciate it and you very much.